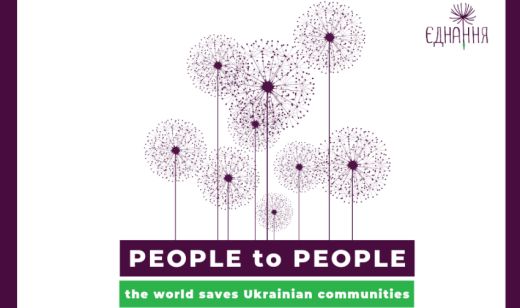 Запрошуємо громадські організації та благодійні фонди до участі у новій грантовій програмі "ЛЮДИ для ЛЮДЕЙ: світ рятує українські громади"
Right after the vicious attack of Russian troops, ISAR Ednannia - one of the largest Ukrainian NGOs - established the Emergency Fund for civil society organizations all over Ukraine, which provide emergency and humanitarian aid to communities that were affected by the war, coordinate and provide support to internally displaced persons (IDPs), transport supplies for territorial defense units etc. We also work and coordinate community foundations in Ukraine, which now are taking care of their community members as well as IDPs who influxed safer communities all over Ukraine.
Thanks to the contributions made by private and organizational donors from abroad ISAR Ednannia managed to launch the call for proposals PEOPLE to PEOPLE: the world saves Ukrainian communities.
In the frame of this call for proposals, ISAR Ednannia is providing grants of up to $ 10 000 to Ukrainian NGOs and charities in order to support communities and people at the territory of Ukraine, aiming the support to where it is most needed and will assist to improve the quality of life of people affected by war or will prevent further worsening of their quality of life because of the war.
Community Foundations and community-based organizations are invited to apply to the Contest!
The following priority areas were identified:
Restoration of critical social infrastructure/provision of equipment, which would promote the improvement of the quality of life of community members or whole communities that were affected by the war or improvement of such infrastructure in order to better respond to the challenges of war;
Sustainable solutions strengthening food and economic security of groups of people/communities to prevent hunger and\or create possibilities of employment for people facing the risk of finding themselves on the verge of poverty and without any income sources;
Activities or solutions aimed at the continuous improvement of the quality of life of community members, internally displaced people, certain vulnerable groups of people who had to flee from war to these communities;
Evacuation from communities that are under the threat of occupation (in the cases where governmental and local authorities can not provide timely assistance);
Targeted assistance to people or groups of people. Those applications that offer not only short-term solutions, but set the grounds for continuous life improvement, and/or the solution will engage other community stakeholders and their input into the offered solution will be prioritized. Targeted assistance is not a priority area and will be provided only in cases when small financial input will create possibilities for continuous improvement of the quality of life of many people.
85% of the grant pool will be distributed to support communities in the circumstances of war via Community Foundations and Community-based organizations.
To learn more about Contest and instructions on how to apply, please download the file.
Civil Society Organizations support the Government, the Armed Forces, and Ukrainians who face new challenges every day.
Together we advance towards our Victory!