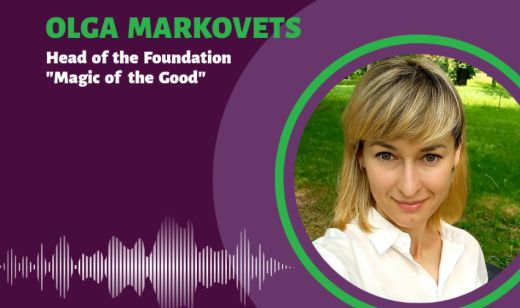 No humanitarian corridors. Unemployment. Humanitarian crisis. High prices and no money. Russian propaganda on TV 24/7. Loud promises of a "beautiful life". Persecution of public activists. This is how life in Nova Kakhovka (Kherson region) looks like today under the temporary russian occupation. However, there is another side of this sad story, which inspires, unites and keeps the Ukrainian spirit fighting.
This is the story of a teacher who, despite all the prohibitions, brought her colleagues, students and the whole community together for the common purpose – to support Nova Kakhovka community residents living under the occupation. College teacher Olga Markovets is the head of the Foundation "Magic of the Good" as well. Despite the threat to her own safety, Olga and community volunteers provide targeted assistance to single elderly people, people with disabilities, families having many children and other vulnerable groups on the occupied territories of Nova Kakhovka amalgamated territorial community.
Due to private donations from all over the world ISAR Ednannia managed to support this local charity so that it could provide humanitarian assistance to community members. Foundation "Magic of the Good" purchased and distributed 910 food packages in 12 settlements. 910 households received targeted assistance. We are sincerely grateful to all our donors! The most important thing for people who turned out to be under occupation is to feel they are cared for and to know that they are not forgotten.
If you want to support initiatives like this, please, visit https://sos.ednannia.ua/ for more information.
Іf you want to improve your Ukrainian - here is the podcast with Olga Markovets: "The food package means more than just food - the history of the charity fund "Magic of Good".
After all, when is the right time to open our loving hearts, if not now? In times when it is so important to believe, live, love, and truly feel that we are not alone. In the podcast, we talk about current life in the Kherson region. How people who live under the occupation are trying to earn their living. How Ms. Olga and volunteers despite the threats to their safety continue to provide assistance to those who need it. What the volunteers have to go through in order to deliver the "help".
Take good care of yourself! Keep taking care of each other! Look out for yourself, so that you can help others! Let's have faith and bring our victory closer! Together!