Hard times require brave decisions. Organization of the Civil Society Development Forum in the midst of the full-scale war was one of such decision. Forum took place this year in Ukraine and Georgia, and gathered 650 participants offline and 3,000 – online (and the latter number is still increasing).
"The Core Element" – was the topic of the Forum in 2022. It was inspired by Ukraine, which currently is the core element of the free world. And Ukrainian civil society is an example of bravery, resistance, and resilience. On International Volunteer Day, despite the rocket attacks and air raid sirens, representatives of civil society organizations, charitable foundations, government, local authorities, and media gathered together in the protected building in order to celebrate the contribution of every Ukrainian to our victory. As participants of the Forum noted, their main motivation for participation in the event was warm meetings and face-to-face communication with each other.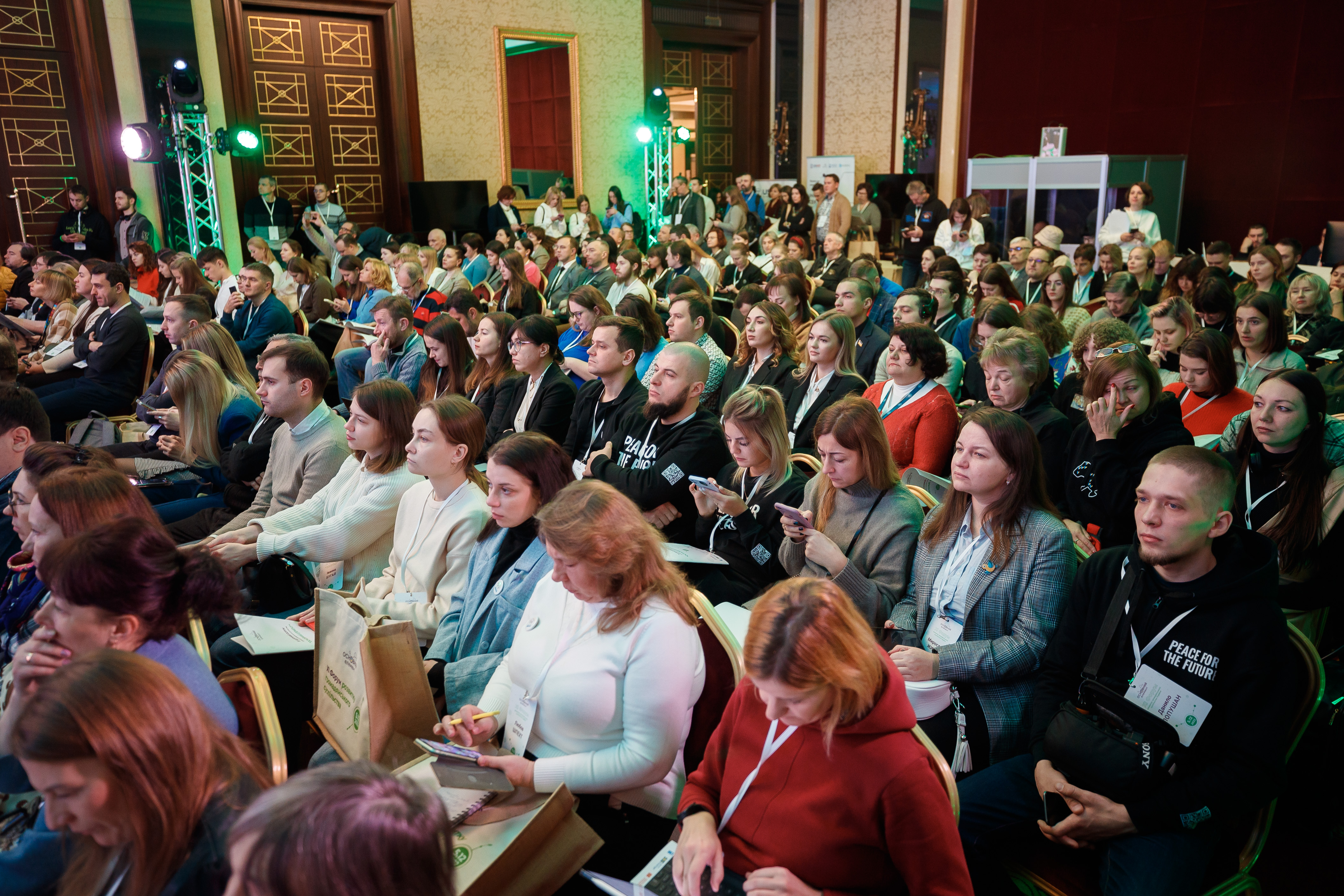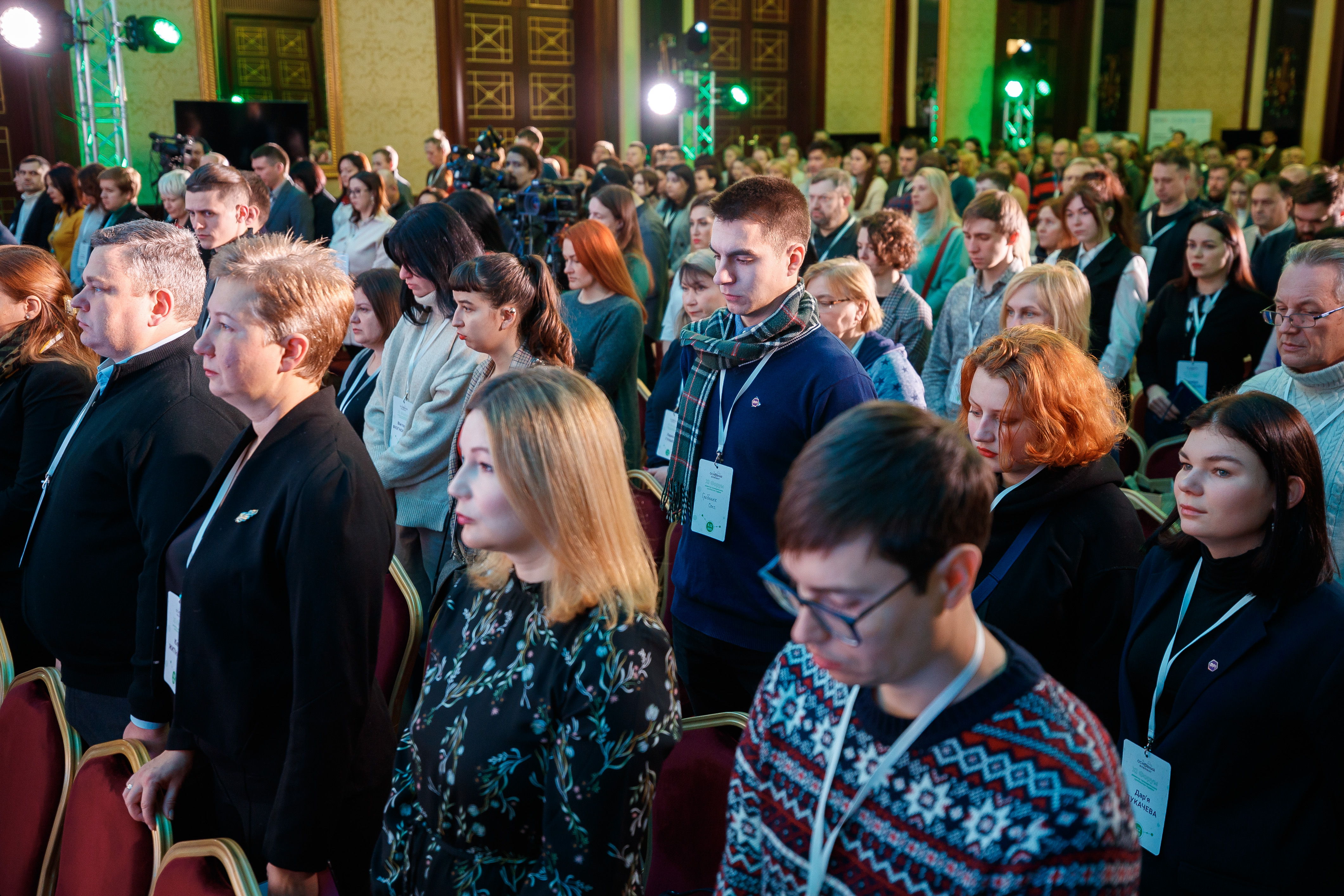 Using the language of the numbers, XI Civil Society Development Forum was:
● 2 days
● representation of all 24 oblasts of the country as well as one international meeting place in Georgia
● 650 participants that met on site
● 3,000 online participants who attended Forum on the online platform https://forum.ednannia.ua/ (and the number continues to grow)
● 32 hours of the live to air events
● 70 speakers
● 4 locations where events happened concurrently
● 7 panel and interactive discussions
● 8 educational workshops and master classes
● 16 stories shared by volunteers
● 12 presentations by donors
● 19 sweet meetings in the Pastry Shop
● 11 exhibitions and presentations organized by social business partners
The official opening of the Forum traditionally started with formal speeches. The following guests greeted Forum participants with the speeches: Deputy Head of the Office of the President Oleksiy Dniprov, who delivered an official message from the President of Ukraine Volodymyr Zelenskyi; Melinda Simmons, Ambassador Extraordinary and Plenipotentiary of United Kingdom to Ukraine; Naida Zecevic-Bean, Acting Director of the Office for Promotion of Democracy and Governance, US Agency for International of Development in Ukraine; Jaco Cilliers, Acting Permanent Representative of UNDP in Ukraine; Olena Pavlenko, president of the DiXi Group analytical center. Oleksandra Matviychuk, head of the Center for Civil Liberties, who won the Nobel Peace Prize this year, also delivered a speech via live stream from Washington.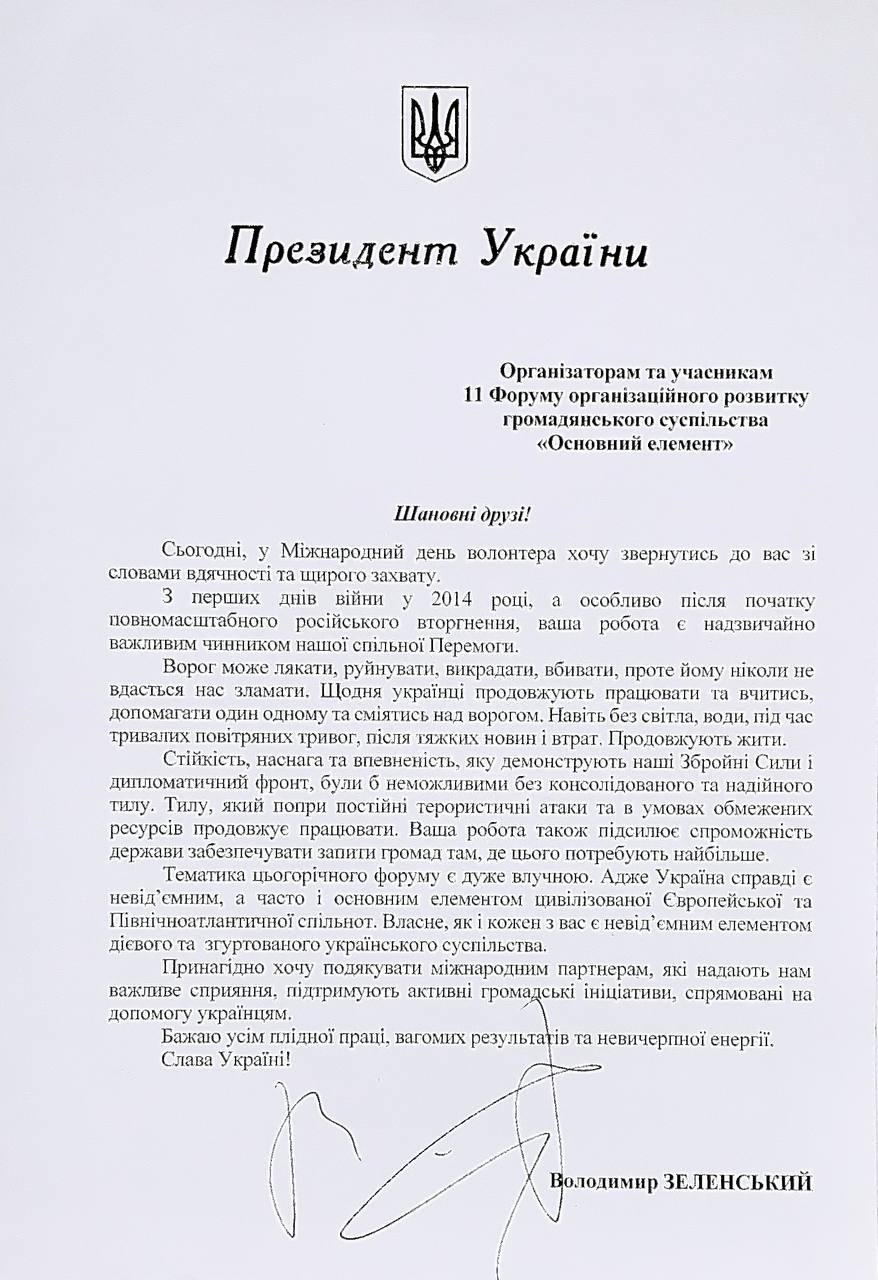 President of Ukraine
To organizers and participants
of the XI Civil Society Development Forum
"The Core Element"
Dear friends!
Today, on International Volunteer Day I want to address you with words of gratitude and sincere enthusiasm.
From the first days of the war in 2014, and especially after the beginning of the full-scale russian invasion, your work is an extremely important element, contributing to our common Victory.
The enemy can frighten us, destroy, steal, and kill, but they will never be able to overcome us. Each day Ukrainians continue to work and study, help each other, and laugh at our enemy. Even without electricity, water, during the long-lasting air raid alerts, after the difficult news and losses. They go on living.
Strength, stamina, and confidence that our Armed Forces and diplomats demonstrate would be impossible without the consolidated and trustworthy rear. This rear continues to work, despite the constant terrorist attacks and in conditions of limited resources. Your work also enhances the capacity of the state to provide for the needs of the communities, in the places where this help is needed the most.
The topic of this year's Forum is extremely relevant. After all, Ukraine indeed is an indispensable and oftentimes even core element of the civilized European and North Atlantic communities. Just as each and everyone of you are the core elements of the capable and consolidated Ukrainian society.
Using this opportunity I would like to express my gratitude to the international partners that provide us with important assistance and support active civil society initiatives aiming to help Ukrainians.
I wish you all that your work is fruitful, results – important, and energy – inexhaustible.
Glory to Ukraine!
Volodymyr Zelenskyi
Recording of the live stream from the main hall #Get Inspired is available at: https://forum.ednannia.ua/online-main.html
- "Civil society was at the frontlines of this war, shoulder to shoulder with the citizens, government and the Armed Forces of Ukraine. We admire the bravery and the fortitude of Ukrainians. And now Ukrainian civil society continues to fight on the frontlines of this war, using its thorough experience and knowledge. Dissemination of the volunteer networks is a wonderful example of the dignity of local Ukrainian civil society, as well as the proof of firmness, determination and dedication of your people.

Volunteers and civil society are important partners of the government when it comes to meeting the needs of the citizens. I am proud of the fact that United Kingdom managed to support your efforts in the humanitarian sphere. I am extremely proud that our partnership foundation supported Ukraine. Great Britain is currently head of this foundation, and together with five other allies we are supporting volunteer networks and civil society.

Indeed, currently Ukraine is fighting not only for physical freedom, but for the right to be a democratic country, where all citizens have their human rights protected and have the right to choose their future. Civil society has developed its own voice, citizens can be heard, and this has helped Ukraine to become more democratic. But there's more to be done.

Nex summer the United Kingdom will host an international conference on the renewal of Ukraine. This will be a very important opportunity to create a common plan of actions, vision and values for the rebuilding of your country. Civil society has to play the main role in the development of the renewal, which has to be well-balanced, effective and just. Efforts of the civil society to establish accountability as part of the renewal and rebuilding of Ukraine are quite visible. The United Kingdom is proud to support the civil society coalition. The United Kingdom will continue to support the government of Ukraine and civil society, as well as their partnership, for the creation of the future that all of you are currently fighting for – free, accountable, inclusive future, with equal rights for all. Now is the moment when all of us have to think how the future of Ukraine should look like, now is the time to be both ambitious and creative in the process of restoration of Ukraine, so that it becomes a better place.

I want to extend gratitude to ISAR Ednannia for hosting us. I hope the discussions that will take place over next few years will be interesting and communication inside of the network will be successful. I am looking forward to new partnerships, solutions and initiatives for the future that all of you are creating at this event" – noted Melinda Simmons, Ambassador Extraordinary and Plenipotentiary of United Kingdom to Ukraine.
- Forum is an important event in the calendar. Each year Forum is a unique opportunity for representatives of the civil society to gather together in order to discuss challenges, opportunities, in order to coordinate work in the future. Over the years this Forum has grown into a powerful platform so that all of us together could find solutions for challenges and to build the civil society sector. This year's Forum is very important. We have gathered here together to think about addressing the joint challenges that arise because of the russian aggression and full scale russian invasion. We are also celebrating here Ukrainian resilience. We acknowledge this resilience, acknowledge that civil society plays an enormously important role in this process, in development of this resilience. Before and now we are facing russia as our enemy. We all know how strong Ukrainian civil society is. You are protecting sovereignty, independence, you are lobbying for important reforms, you are conducting monitoring, you are helping citizens to cope with all the challenges, including the full-scale war against Ukraine.

Ukraine is going through extremely hard times right now, and the role of civil society has only increased. USA are proud that we can assist you. With the support of US Agency of International Development we continue to support sectoral reforms, help communities to adapt to the current events in the country.

We all admire the resilience of the civil society organization in Ukraine. You continue your work even when you are forced to relocate, if you are facing difficulties – you find the resources. We can see collaboration even with local businesses. Hubs are being opened in Lviv, Lutsk, Uzhhorod, Cherkasy, Chernivtsi, Rivne, in order to provide humanitarian and psychological aid to those who need it, to those who were affected by the war. You also work on developing the future policies, think about developing strategy for the future of Ukraine, for its development in the future. The world is deeply impressed by what is going on here, how you are protecting your sovereignty, independence, and how you want to help Ukraine to thrive. Civil society stands together with the army on the frontlines. You will continue to play this important role even after we will win. The USA will continue to stand together with you. The American government, American people, citizens committed themselves to supporting you for as long as it is necessary in order to fight against the aggression and so that we can really protect the independent Ukrainian future. I wish you enough ardor to continue this work. Glory to Ukraine!" – says Naida Zecevic-Bean, Acting Director of the Office for Promotion of Democracy and Governance, US Agency for International of Development in Ukraine.
- "We have met with you 11 times already, and we have been in solidarity with you during these years. Ukrainian people demonstrate unity and loyalty. Recently, the UNDP conducted a study in which Ukrainians noted that now they care more about the future of Ukraine than before. Society plays an important role, I saw it all over Ukraine. The strength of society, its responsibilities - is to solve problems and society makes this clear every day. Despite the challenges of the war, Ukrainian society remains strong, we see a volunteer movement that is becoming stronger. If civil society says, "I will do something," it will be accomplished. In order to ensure recovery, it is important that donors, local actors, and the humanitarian system agree on the next steps together not only with the government, but also with important civil society players. We, the UNDP, are trying to support this work in the future. We welcome ideas, initiatives that will generate Ukraine's movement towards progress and prosperity. Usually, there are three types of people in every society: those who say - "not now", those who say - "yes, but...", and those who say - "why not...". I think that the strength of civil society, Ukrainian people, is that they say - "why not", – says Jaco Cilliers, Acting Permanent Representative of UNDP in Ukraine.

-"It is important that we win this war without turning into russia. We need to remember that we are fighting for an opportunity to build a country where the rights of every person are protected, the government is accountable and controlled, courts are independent and police do not disperse peaceful student demonstrations. Because russia started war back in 2014 in order to prevent us from staying on this way, because putin is not afraid of NATO, putin is afraid of the idea of freedom. It was not the armed aggression of russia, but the way Ukrainians bravely resist it, that put Ukraine among the priorities of the international agenda.

During the first months of the full-scale invasion we could observe how governments and international organizations were still clinging to the old world that did not exist any more, and how slowly they came to realize that the world did change, and that they had to leave their usual comfort zone and to take a clear position. Our world has become more quick, complex and interconnected, and only dissemination of the freedom in this interconnected world makes it more safe. This is why the heart of the free world is currently beating in Ukraine. Developed democratic countries are used to the forced concessions to the authoritarian regime, that is why the spirituality of Ukrainians is so important, as well as their resistance to russian imperialism, because this war is the war about meanings. This is not a war of two countries, this is a war of two systems – authoritarian one, and democratic. Ukraine's success will have an enormous influence on whole of the region, on the russia itself and on the other countries, where the freedom has shrunk to the size of the prison cell" – Oleksandra Matviychuk, head of the Center for Civil Liberties, noted in her live stream from Washington.
International communities emphasize the sizable role of Ukrainian society both in achieving victory and in the rebuilding of Ukraine. It is important not to forget about it, so that the role of civil society continues to increase. After all, this is a prerequisite for the success of Ukraine as a state.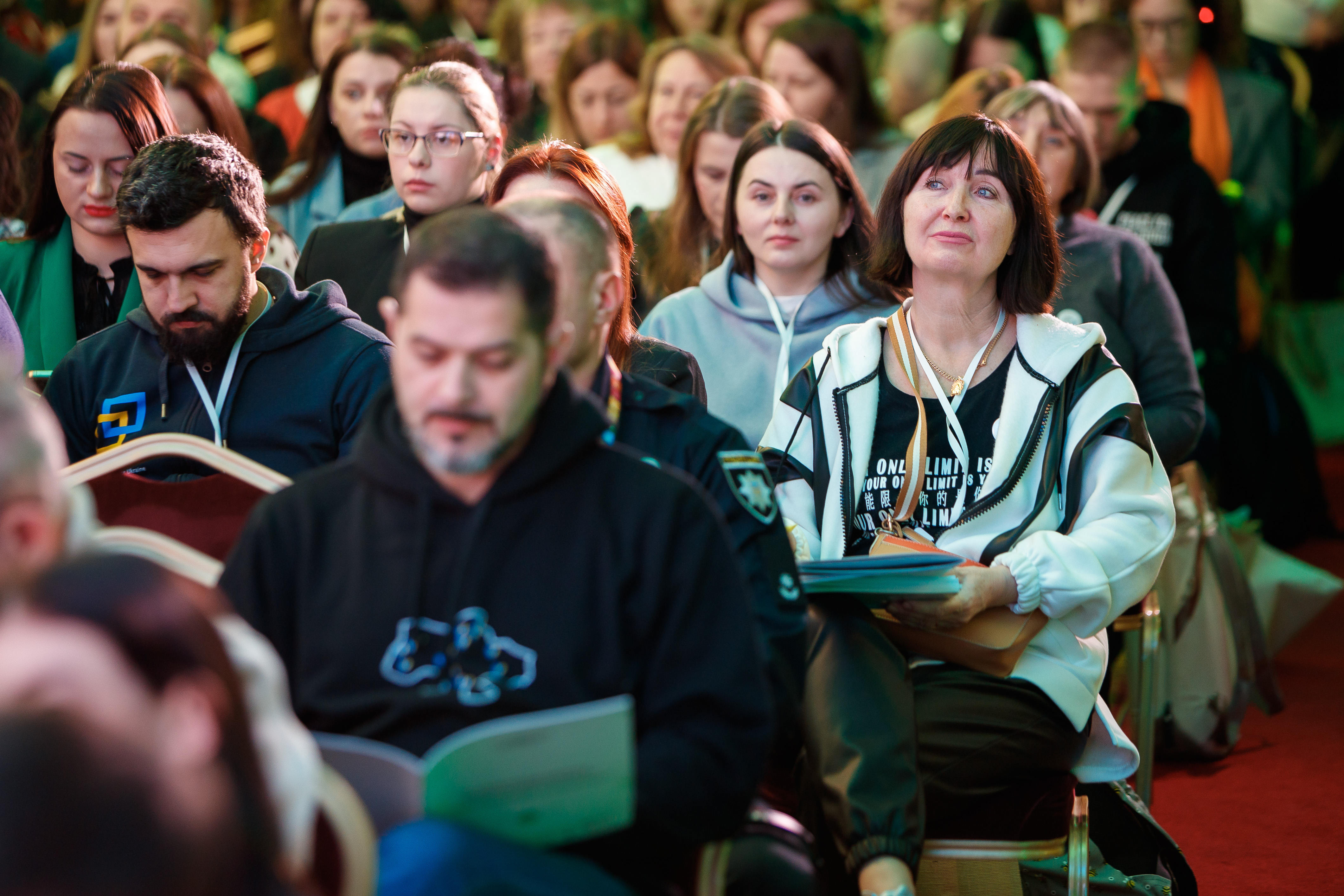 Each year donors are announcing their programs and priorities for the upcoming year at the Forum. This year, despite all the uncertainties, was no exception. But if previously these were the donors that are working towards the support of the development, democracy and rule of law, in 2022 presentations were prepared predominantly by the donors who are providing support in the humanitarian sphere.
So, organizations had an opportunity to communicate directly and to plan joint actions and to discuss coordination with 12 donor communities, namely:
• HEKS/EPER in Ukraine
• A branch of the "People in Need" organization in Ukraine
• CORE Ukraine
• International Renaissance Foundation
• Ukraine Confidence Building Initiative UCBI III
• "Partnership for Strong Ukraine" Foundation
• Ukraine Civil Society Sectoral Support Activity
• House of Europe
• European Foundation for Democracy
• United Nations Program for Reconstruction and Peacebuilding
• Ukraine Rapid Response Fund IREX
• ISAR Ednannia
Recording of the live stream is available at: https://forum.ednannia.ua/online-golden.html
Donors' presentations can be accessed here.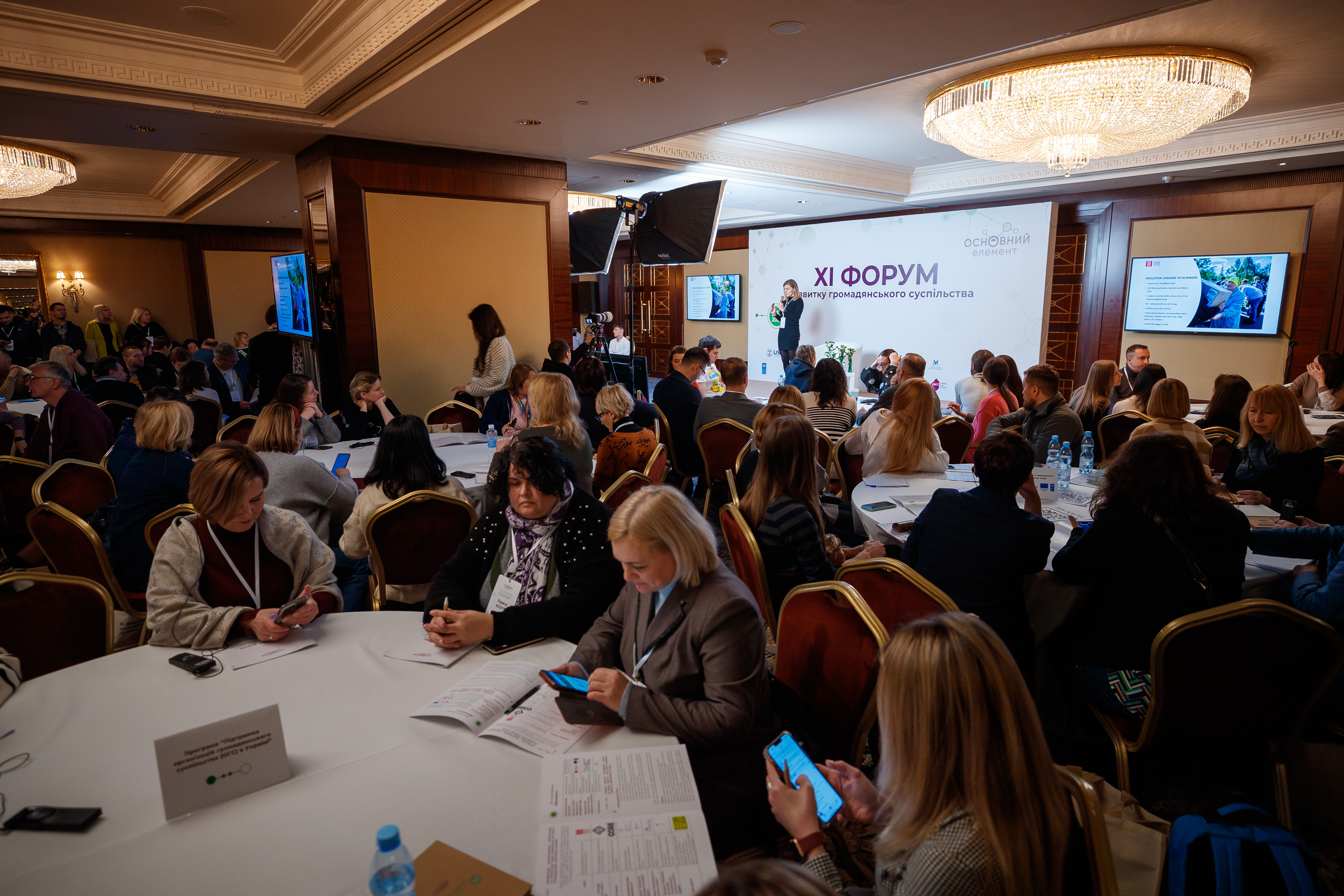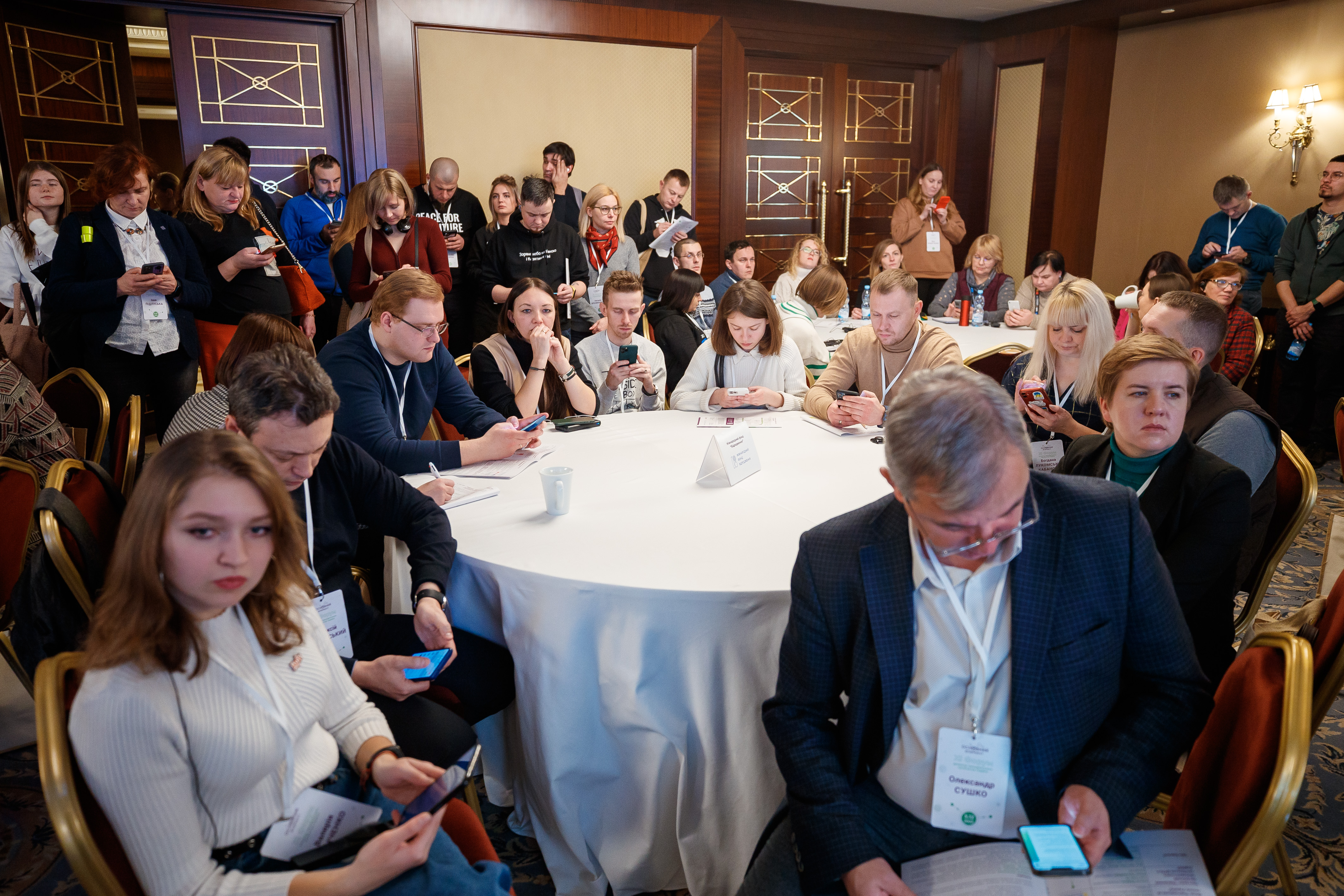 "Ukraine is on fire: how civil society makes victory closer" - became the main topic of the discussion panel, which discussed the main challenges for civil society and how to coordinate further actions with all partners and stakeholders to hold this front.
Recording of the live stream is available at: https://forum.ednannia.ua/online-main.html (start at 2.03.55).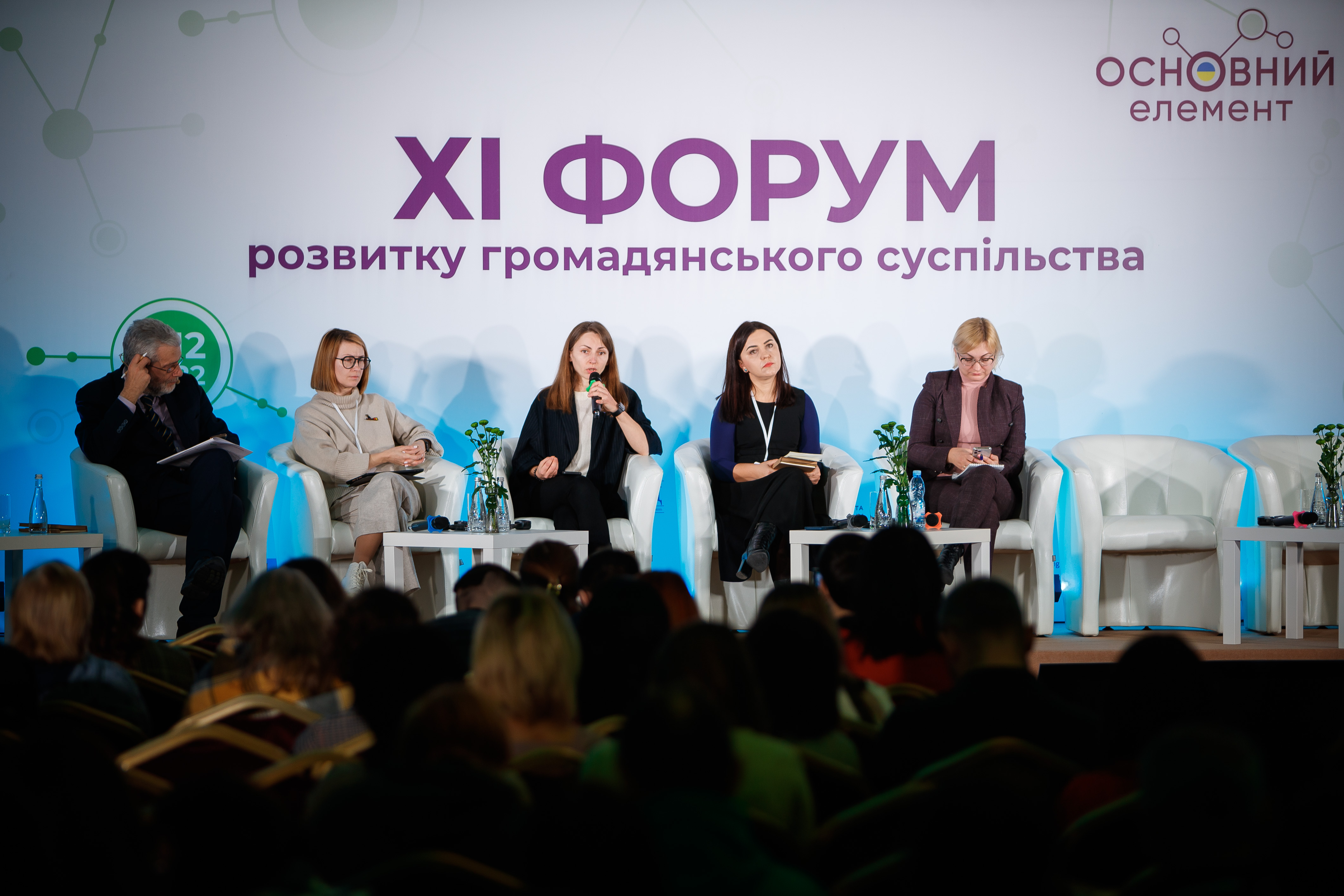 Participants were inspired by the implemented and current projects that were initiated and implemented by young people in Ukraine as a contribution to the victory at the panel discussion entitled "Youth Watch. How young people across the country contribute to the resilience and restoration of communities". The main points for discussion were practical cases that help the integration of internally displaced persons into communities throughout Ukraine, promote social cohesion and national unity, as well as the key findings of the study "The impact of war on youth in Ukraine", which was conducted in partnership with the Ministry of Youth and Sports, UNDP and the UN Population Fund.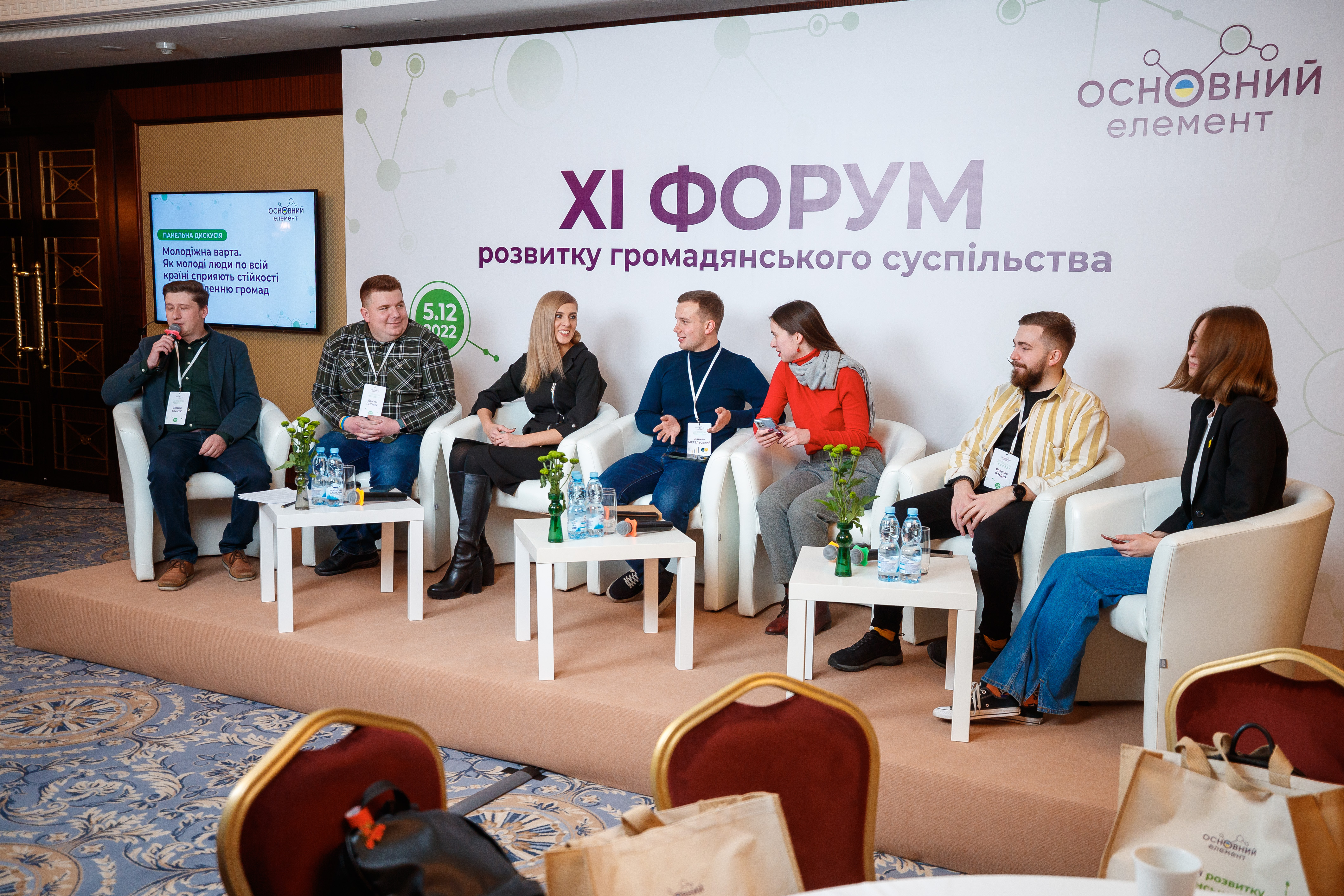 Challenges in the humanitarian sphere on the ground and practical solutions that will strengthen the ability of Ukrainian civil society organizations and charitable foundations to respond to these challenges were discussed during the panel discussion "Localization of humanitarian response - the role of civil society".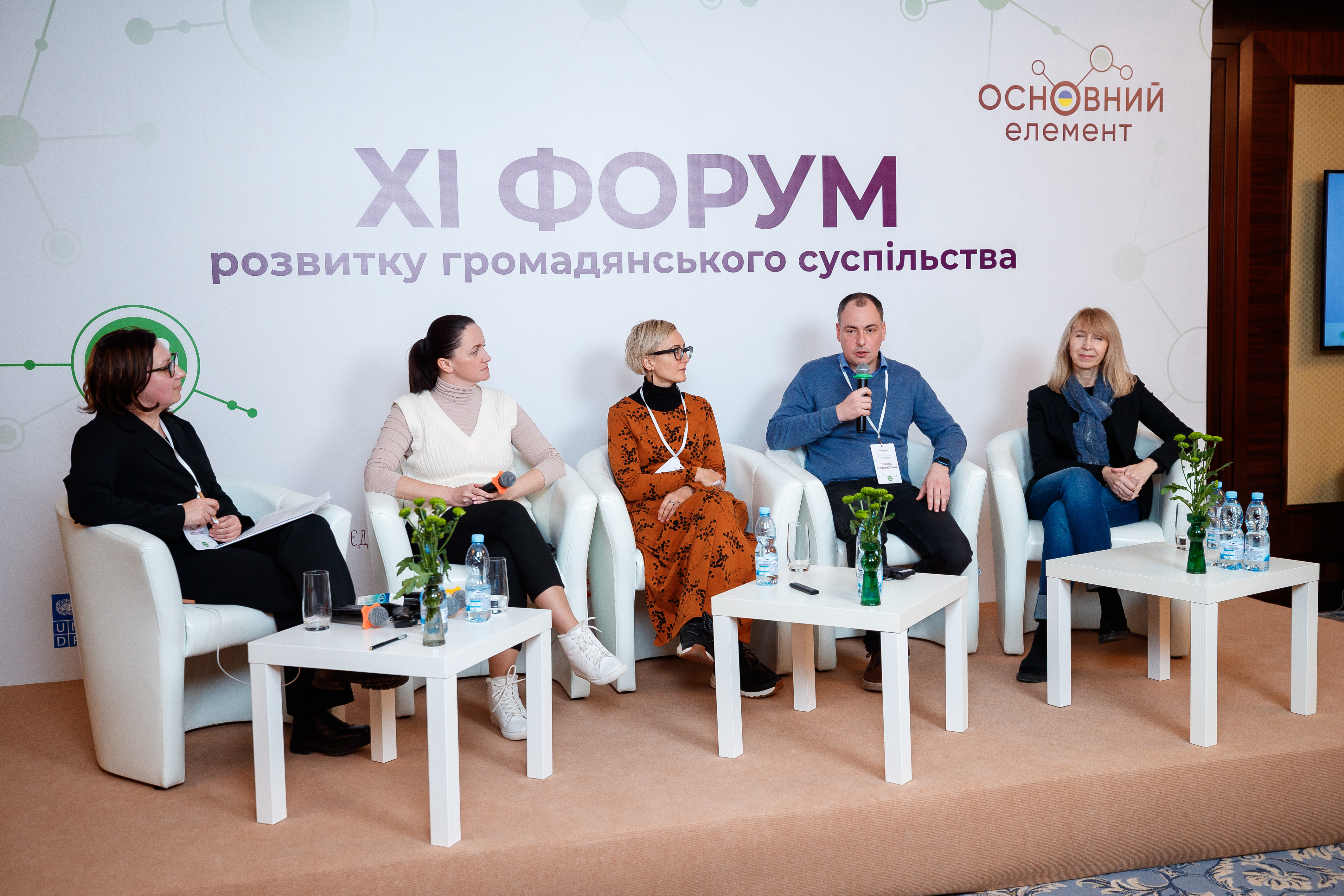 Panel discussion "Restoring Trust: A Roadmap for Civil Society" with the participation of experts, representatives of government and Ukrainian business presented an opportunity to search for recipes of sustainable trust towards the civil society sector.
Recording of the livestream is available at: https://forum.ednannia.ua/online-meeting.html (start at 12.35).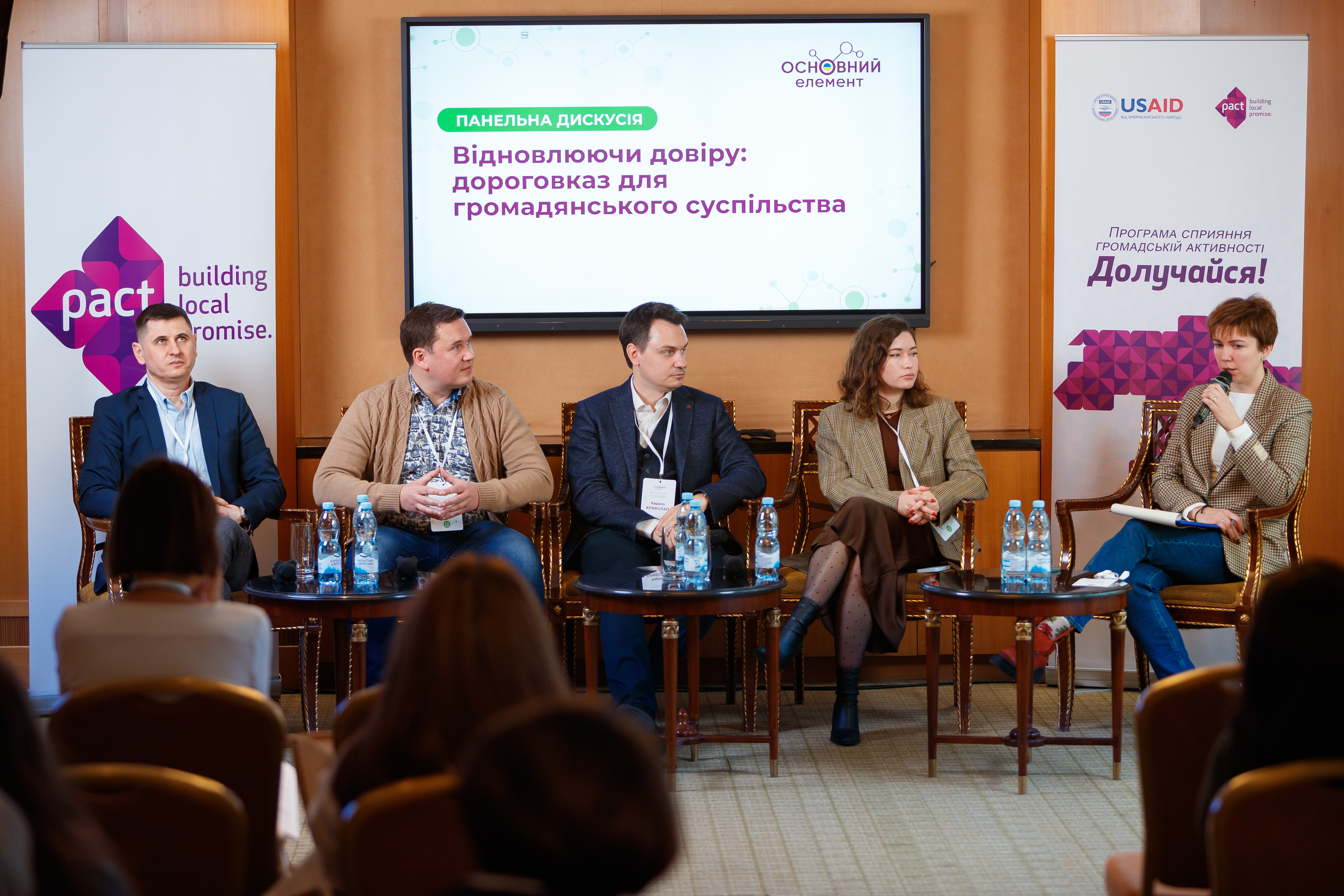 The panel discussion "Local victories. How civil society and business support local authorities in recovery of Ukraine" dwelled on a variety of topics, such as: resilience, sustainability of communities, mutually beneficial and effective cooperation between civil society organizations and local self-government in martial law conditions, successful practices of cooperation between the public and heads of local councils, councils, communal institutions, establishments, enterprises and what can be done by the public and local government together to strengthen recovery.
Recording of the live stream is available at: https://forum.ednannia.ua/online-meeting.html (start at 2.51.55).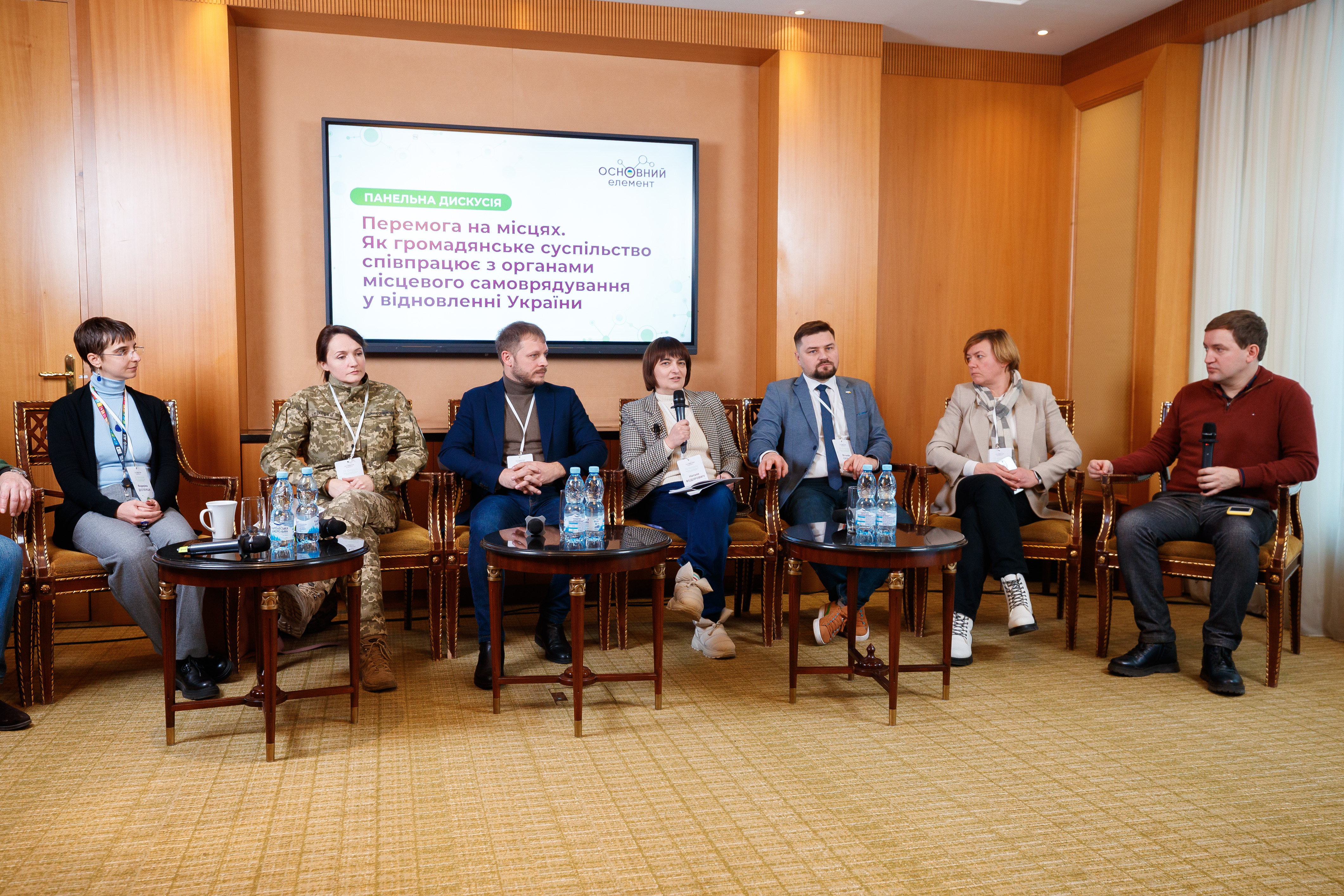 State policy regarding the support of volunteers and volunteer movement, in particular at the legislative level, the need to distinguish the concepts of "volunteering", "charitable aid", and "humanitarian aid" in public discourse, the most urgent requests from civil society organizations regarding the improvement of regulatory and legal regulation and mechanisms of state support of philanthropy and volunteering in Ukraine – these issues were raised at the expert discussion "Volunteering - philanthropy- humanitarian aid: different tools - one goal".
Recording of the live stream is available at: https://forum.ednannia.ua/online-meeting.html (start at 4.33.16).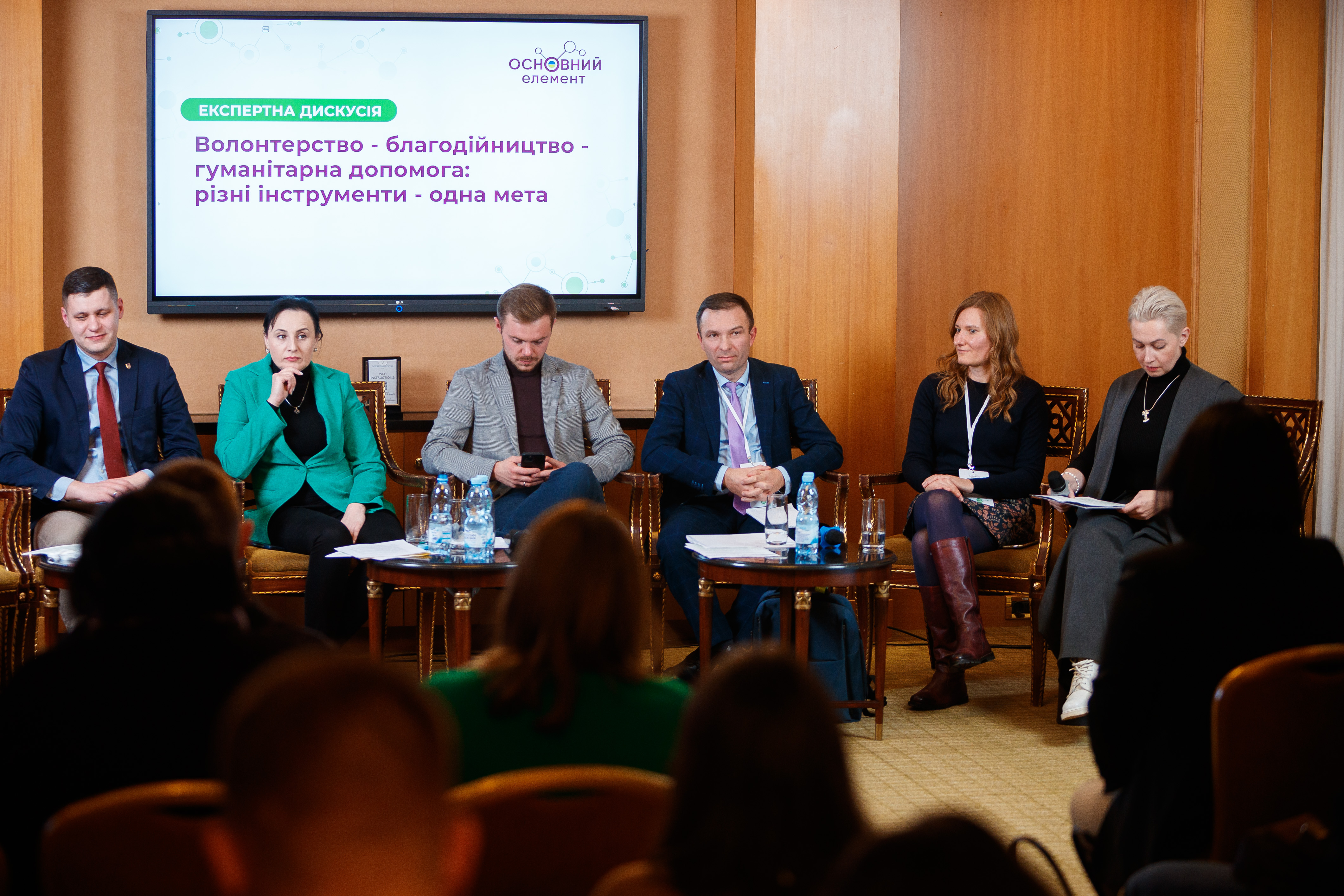 While some participants were participating in the discussions, others were learning how to provide pre-medical care in case of massive bleeding, how to cope with the syndrome of emotional professional burnout, how to look for work in the non-state sector in the conditions of war, how to experiment with creativity in their projects, how to master the skills of a successful information campaign, how to obtain practical recommendations for working with foreign media, how to check (their) non-profit organization for integrity. All of this and even more could be found at workshops on capacity building for CSOs.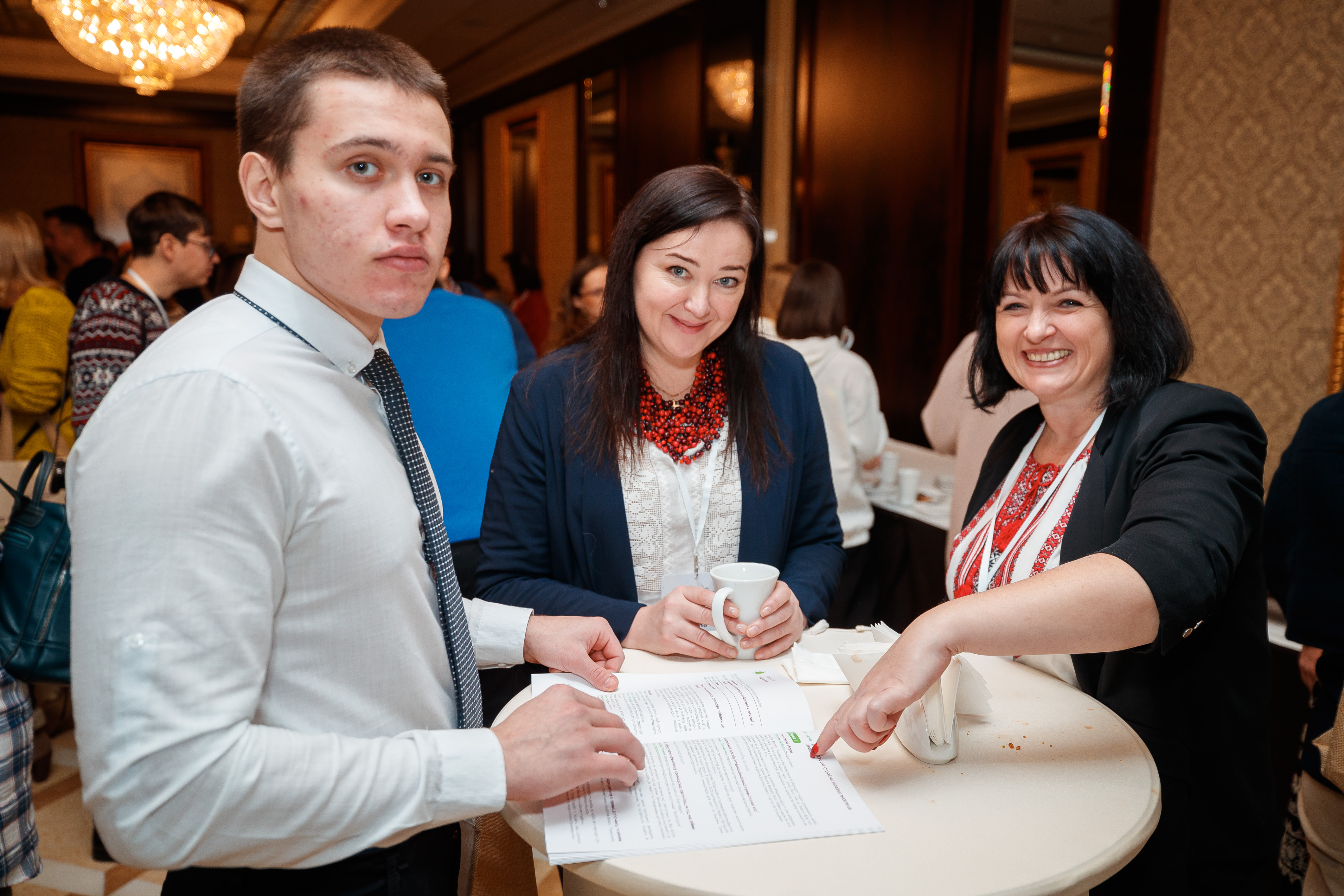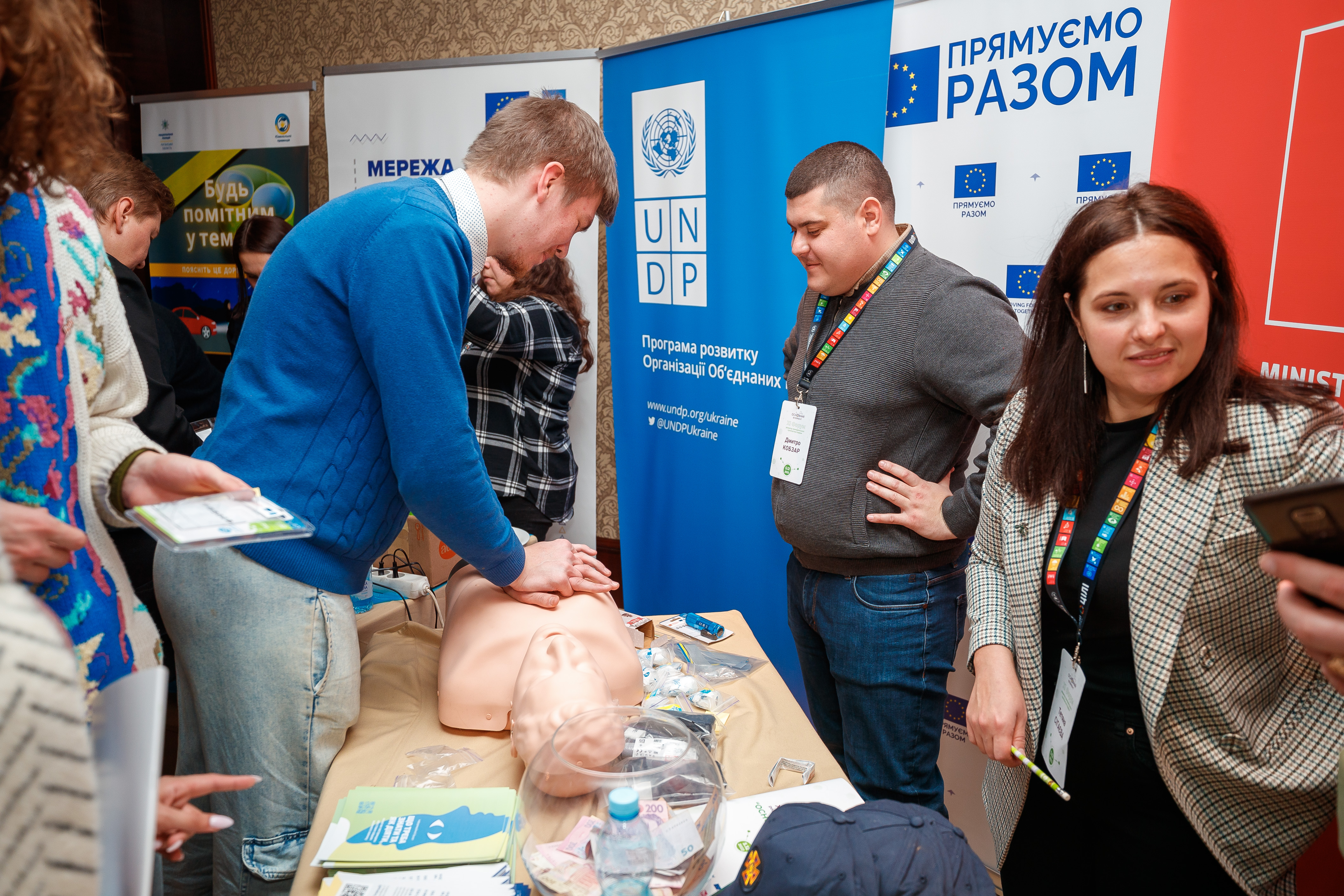 Stories of the volunteers: how Ukrainians managed to do IT
It's impossible to imagine the Forum without your stories. Especially now, during the full-scale war, when every success story gives faith in victory, inspires and gives strength not only to support our army and each other, but find opportunities for life's little joys, that inspire us to go on living. So, when we say – Ukrainians, who managed to do IT, we mean every one of you, all those people who continue to live, work, volunteer, love and be, in spite of everything.
We have collected in one place 19 impressive stories of people who have the superpower to change lives - evacuate 16,000 people across the Pechenizka dam; transform trust into 4,600 thermal imagers, 514 cars, 1 bayraktar, 3,328 quadcopters; attract funds with zero marketing budget; lobby for the right solutions in government agencies; interact with embassies and representatives of other countries; save four-legged friends under fire; build an innovative shelter during the war and much more.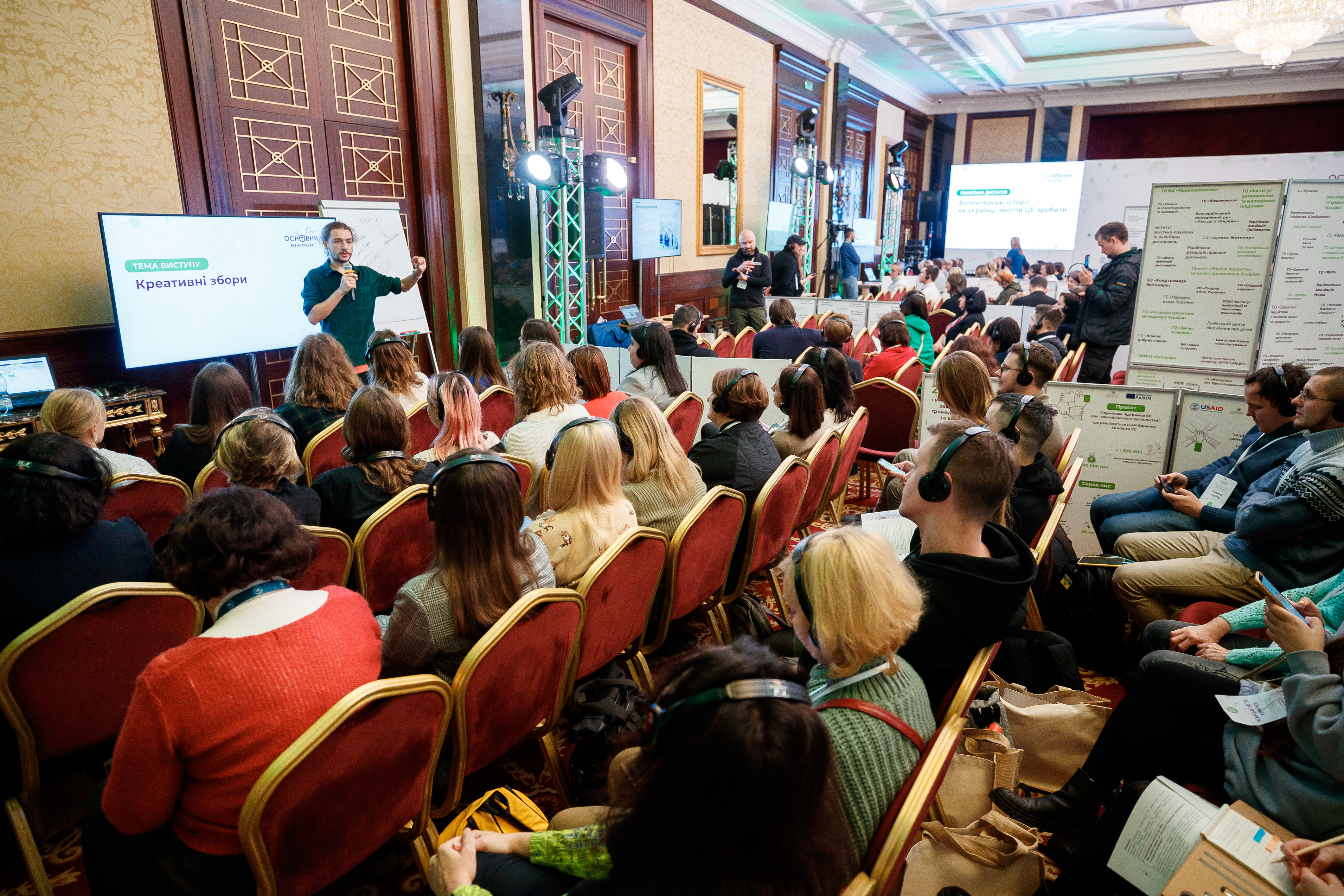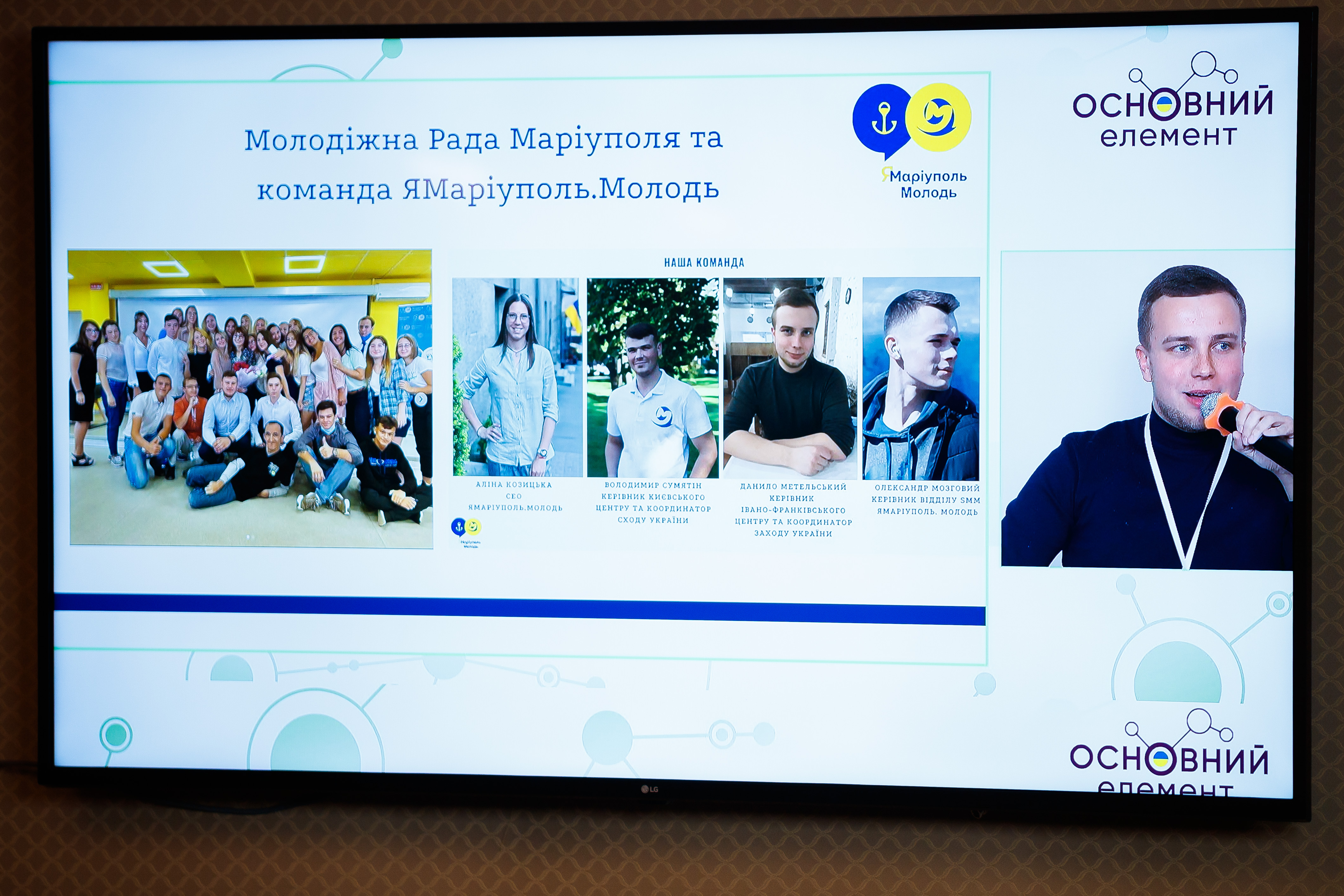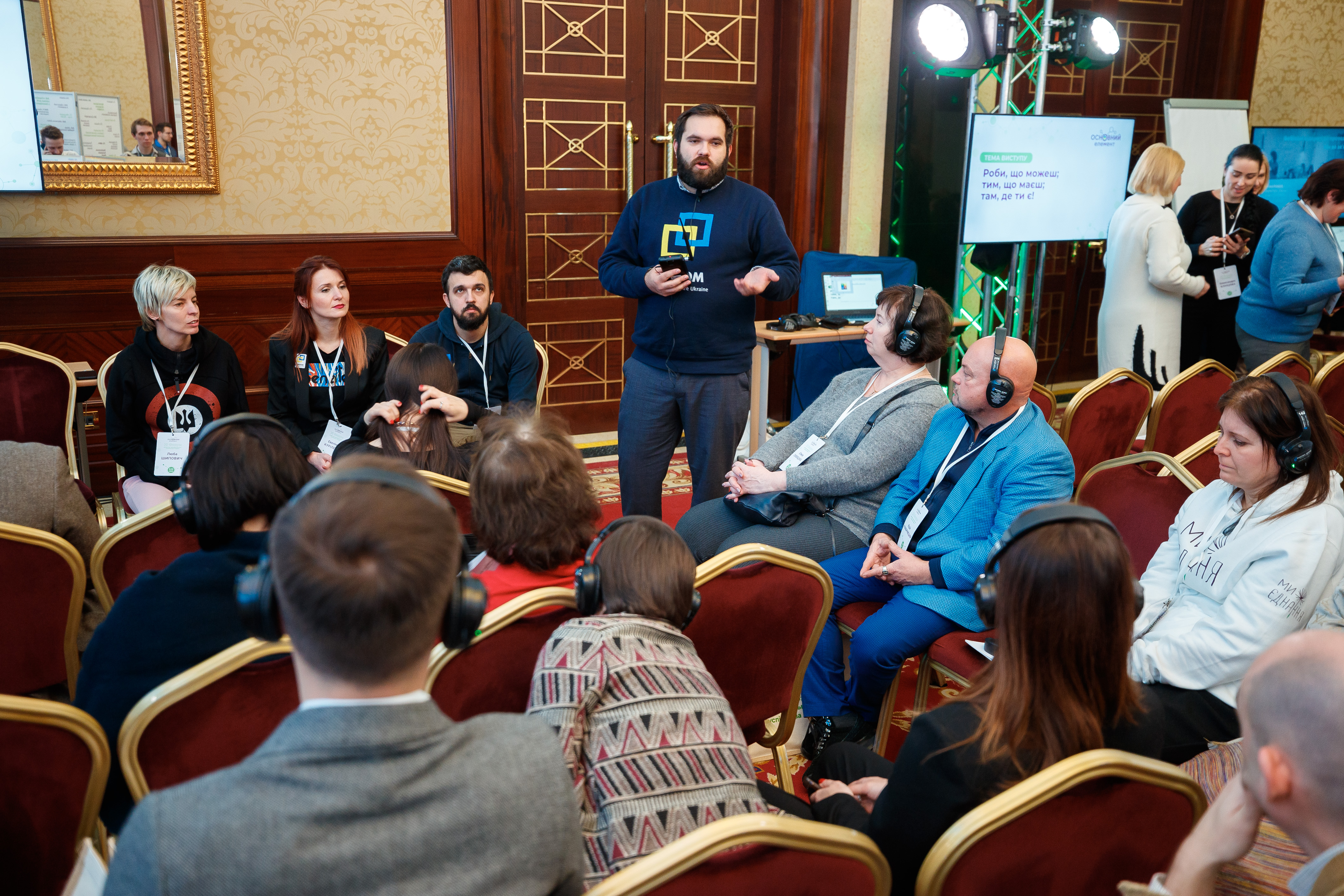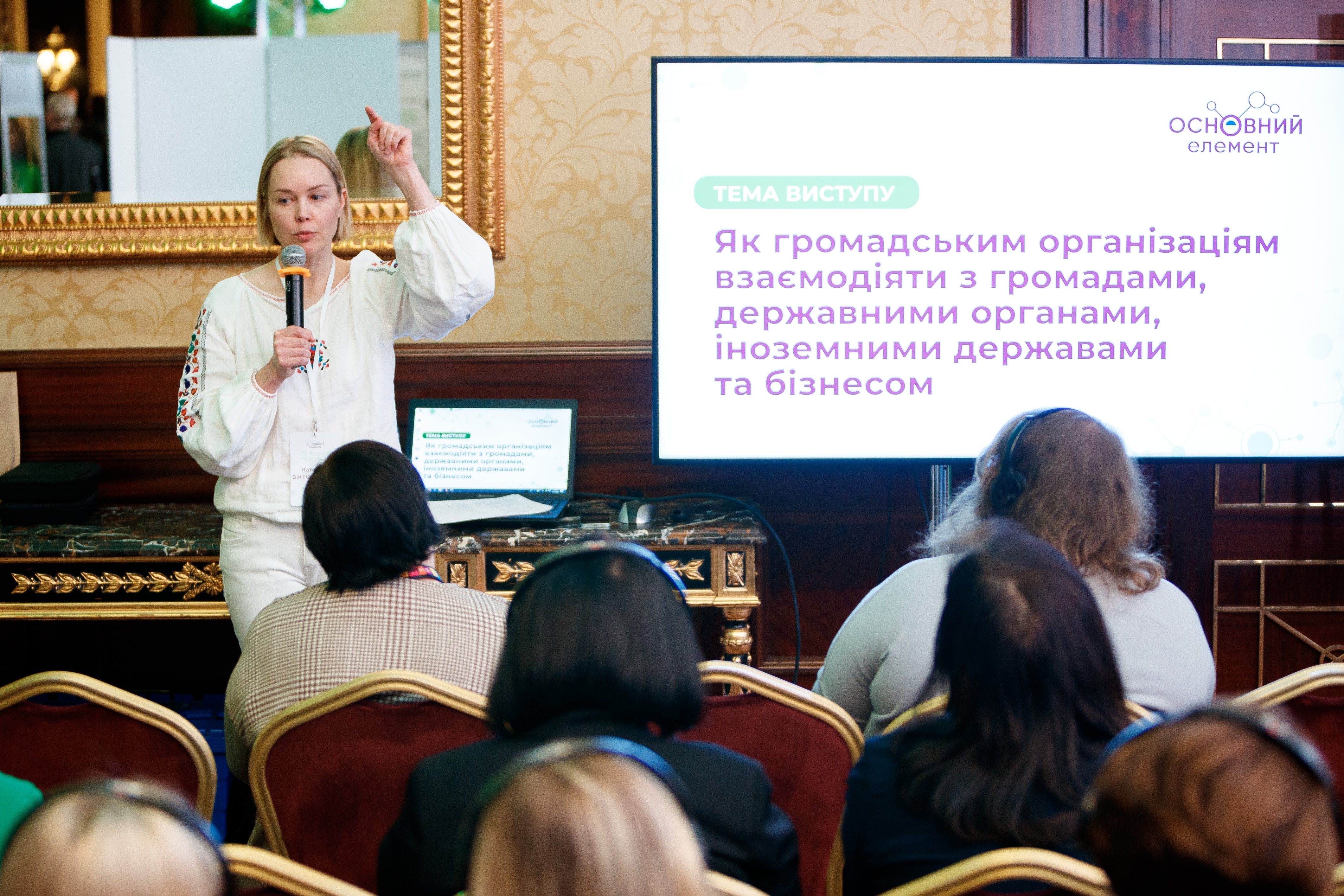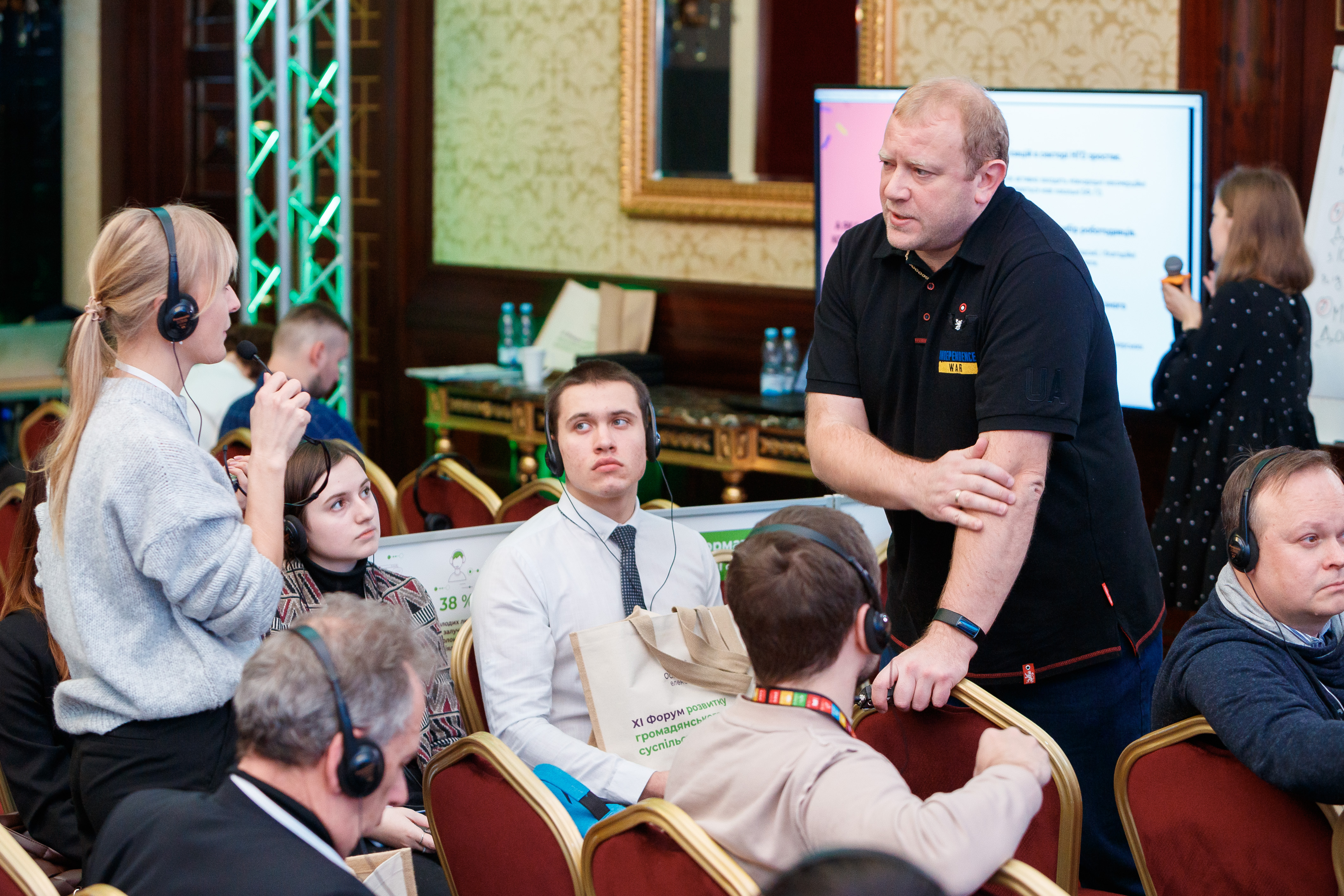 Each year the Forum provides ample opportunity for informal communication. The place, where it is available in abundance, is our pastry shop: a cafe of discoveries and insights, where everyone could find an interesting interlocutor who shared his/her knowledge and experience. This year, conversations related to crowdfunding in the field of culture, how theater can unite and support the community in times of war, the transformation of society under the influence of internally displaced persons, the needs and challenges of young people, high-quality response to humanitarian needs, public opinion about the Russian-Ukrainian war in the world, the experience of attracting donations from corporations from the USA, as well as other relevant topics that arose during the period of full-scale war.
Social Entrepreneurship Fair – is another opportunity offered by the Forum. Here one can buy tasty treats, useful things or high-quality produce made in Ukraine, and also make a contribution to a useful cause, supporting either the Armed Forces of Ukraine or vulnerable groups of the population. Thus, by buying aromatic tea, one could support the Center for youth with mental disabilities "Dream Workshop"; by visiting a honey workshop – support financially elderly people; by buying a shopping bag or embroidery – support mothers who were forced to flee their own homes (and also protect the environment). There were 11 social enterprises present at the Forum, namely:
• Herbal teas "Workshop of Dreams"
• Social manufacture BeeThe
• Front Med – Ukrainian manufacturer of natural sweets and honey desserts
• Mamarada - logo embroidery, printing on T-shirts. Shoppers, aprons with embroidery
• ÓNA - natural cosmetics
Social project "We are of the same blood" – hoodies, socks, accessories
• CrazyKaktus - shoppers and eco bags
• This Is Craft – craft souvenir products
• Charitable shop "DREAM SELLERS" – dolls.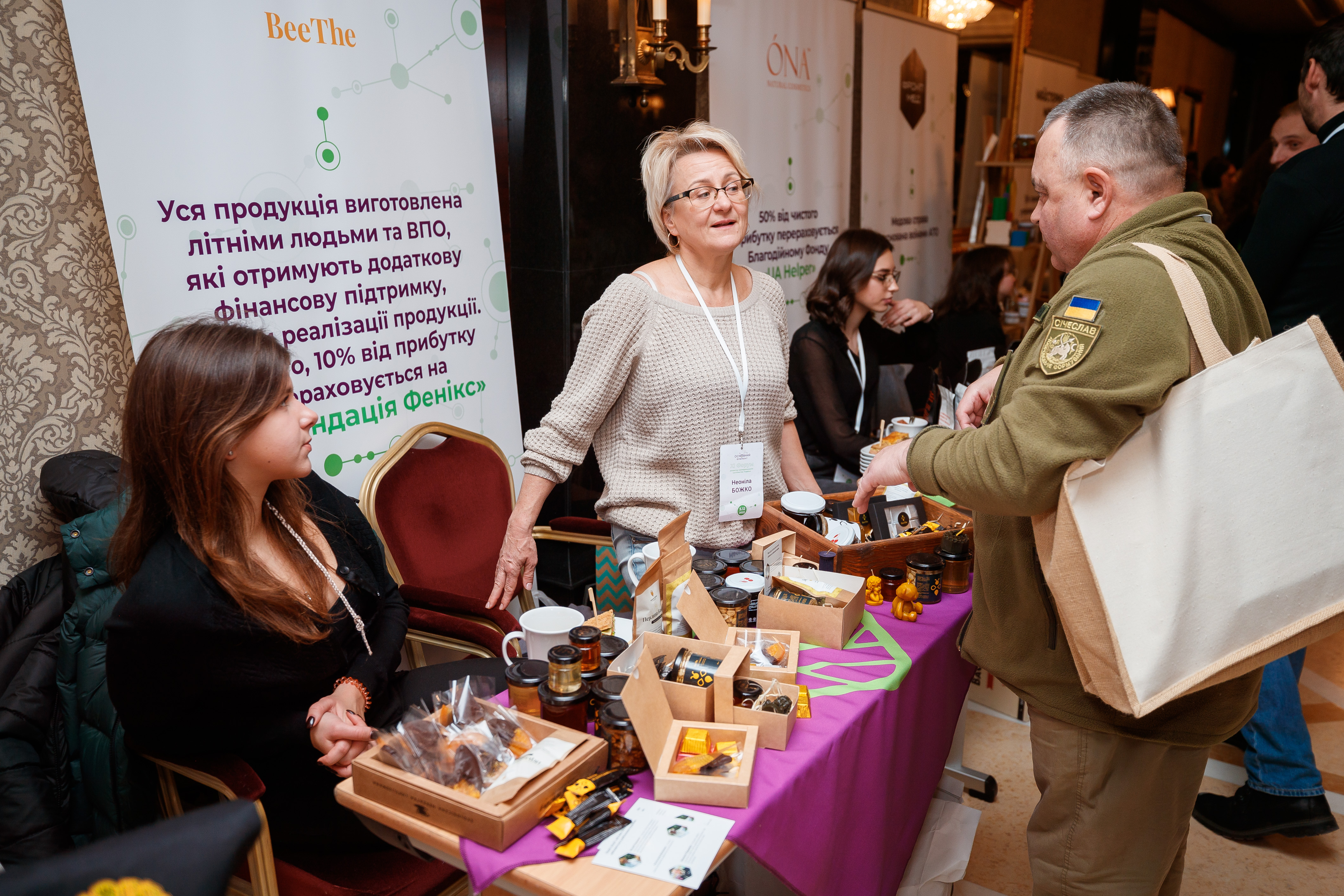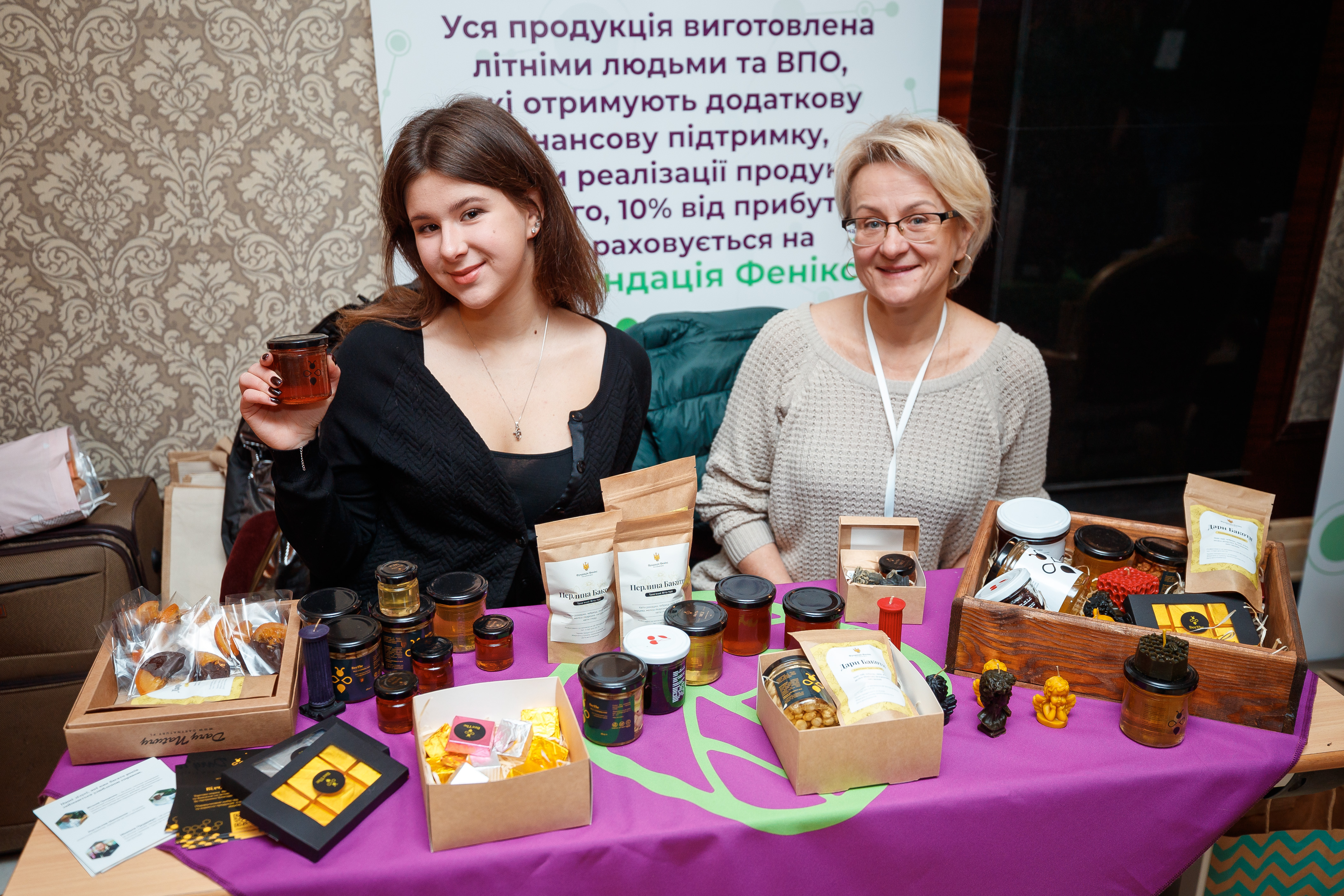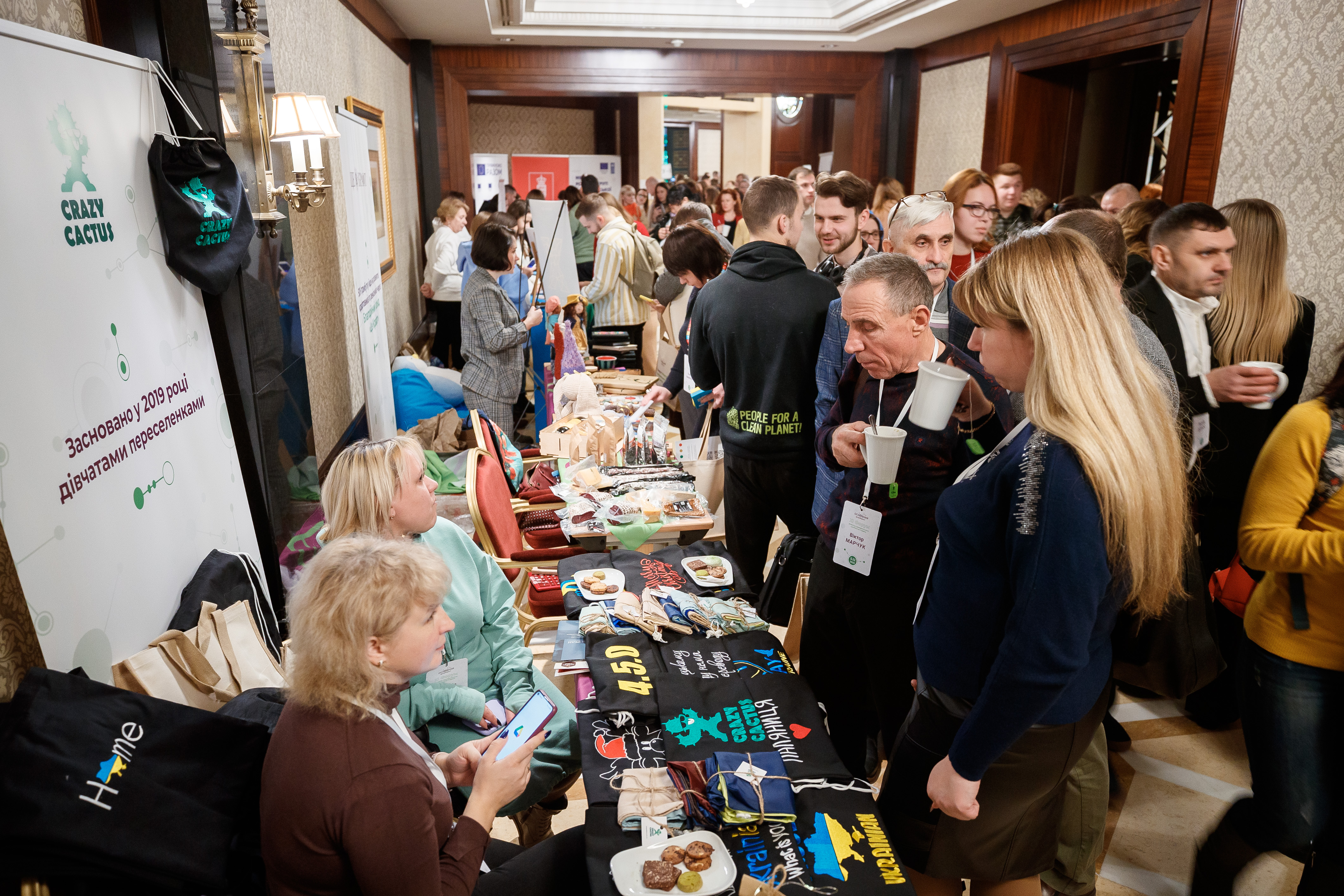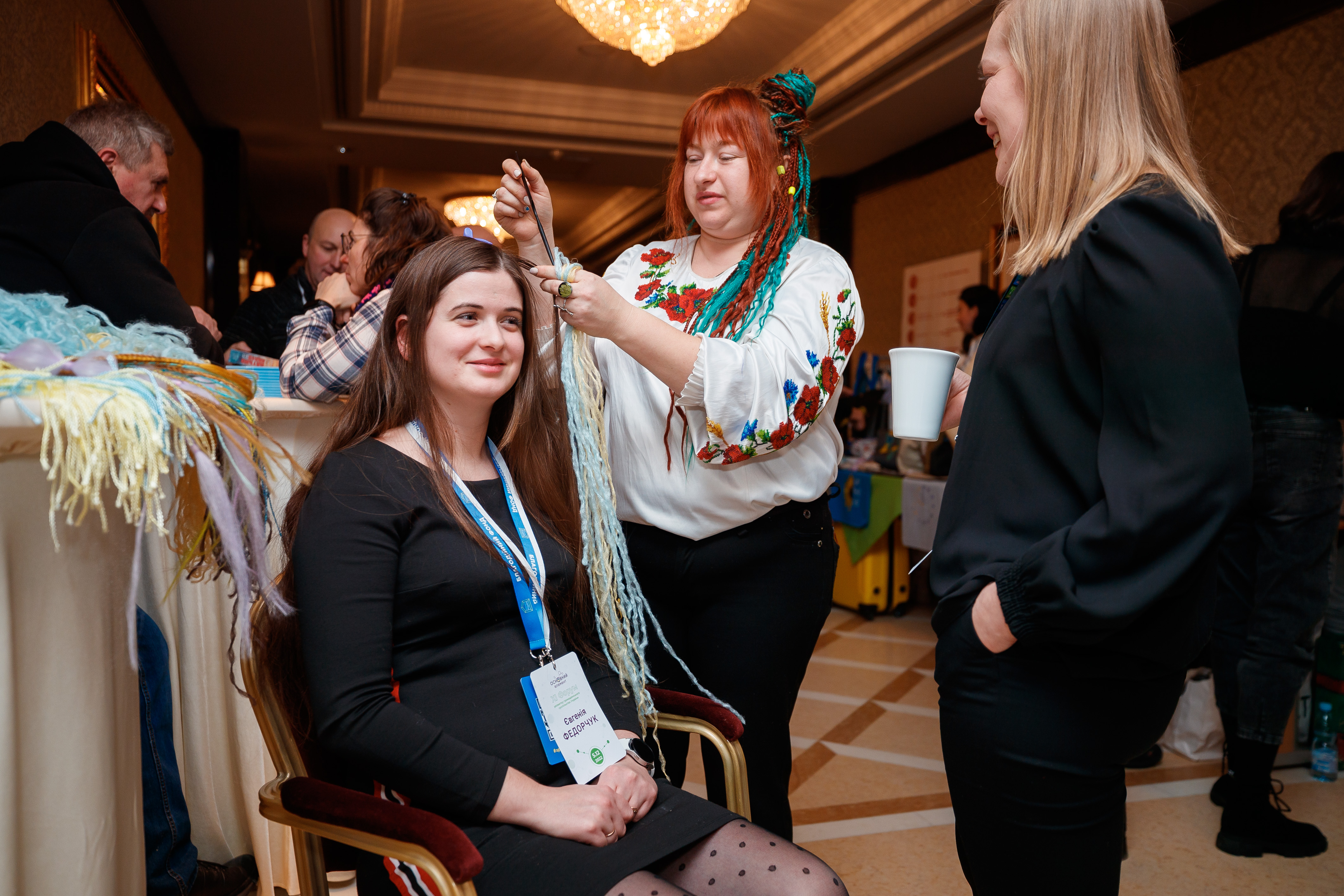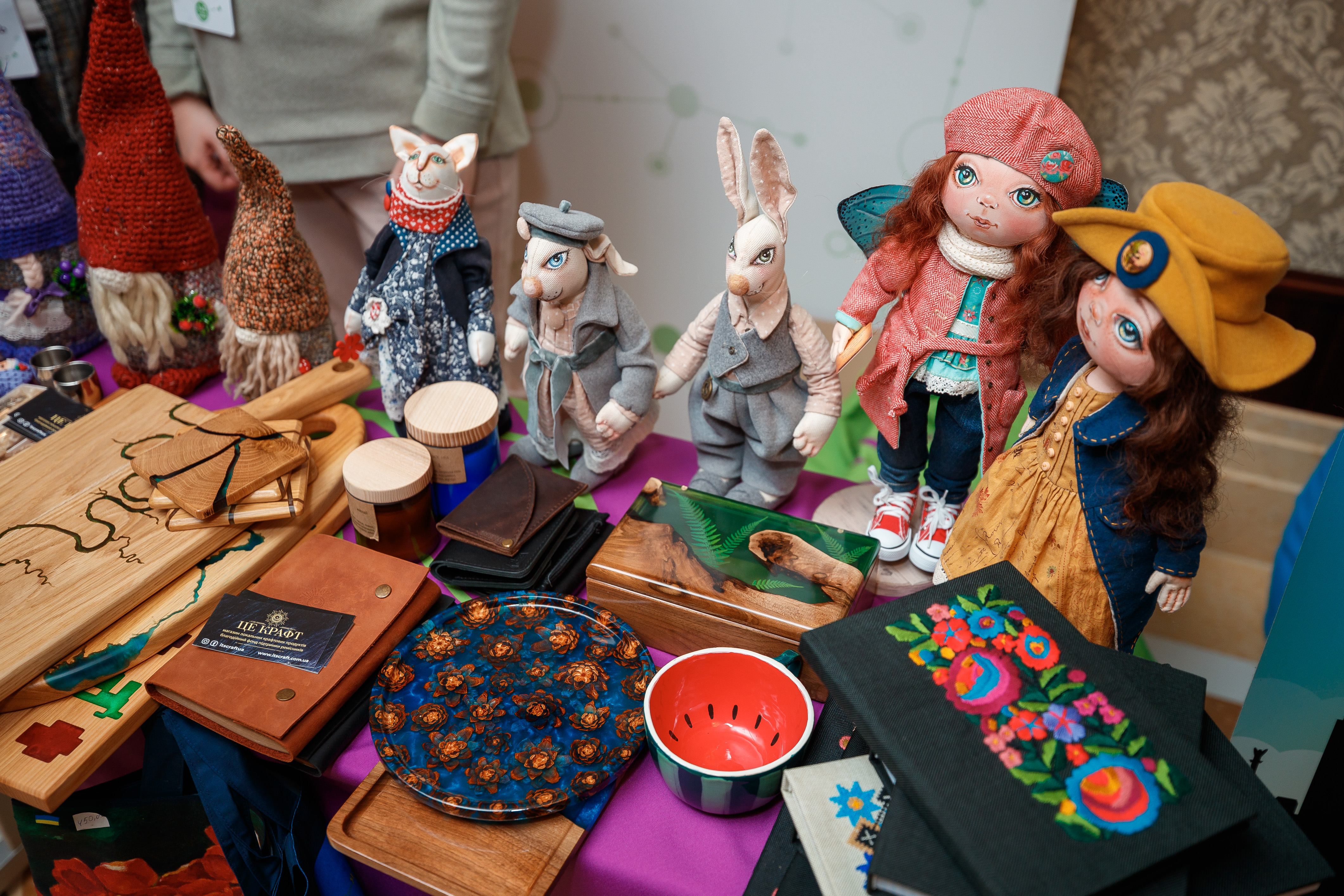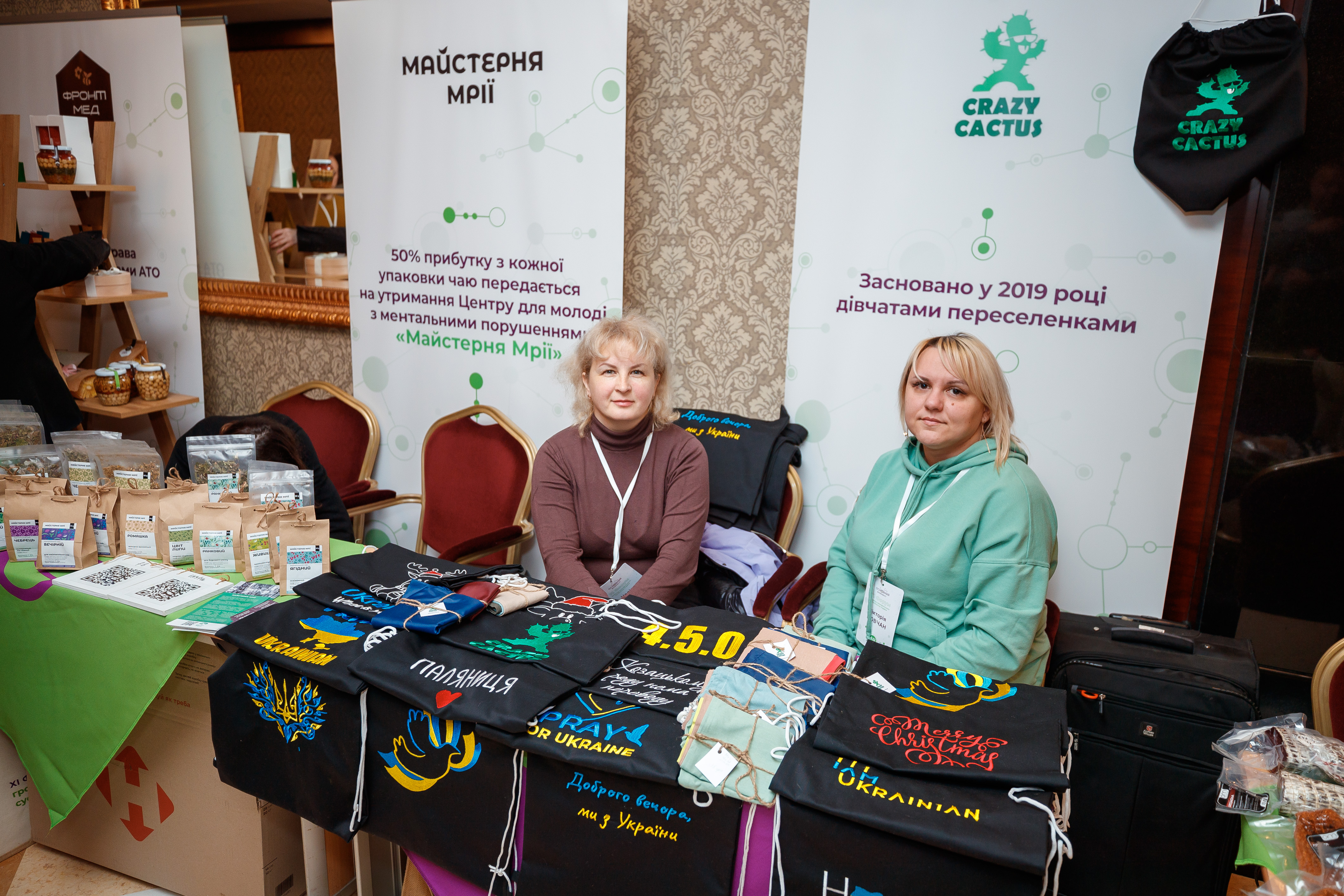 Volunteer – is an ordinary person, achieving extraordinary things.
The 11th Civil Society Development Forum "The Core Element" ended with an atmospheric and warm evening event – the Volunteer Award-2022, in the company of the Nobel laureate – the Center for Civil Liberties, the Euromaidan SOS initiative, and the Ukrainian Volunteer Service.
The stars of Ukrainian show business came to congratulate the volunteer initiatives nominated for the 2022 Award: Marichka Padalko - Ukrainian TV presenter; Ruslana Lyzhychko - People's Artist of Ukraine; Svyatoslav Vakarchuk - Ukrainian musician, and civil society activist; Serhii Tanchynets - leader of the band "Bez obmezhen"; Yaroslava Kravchenko - Ukrainian TV presenter, radio presenter, civil society activist; Mykola Sierga - musician, TV presenter; Rymma Zyubina - actress, TV presenter, civil society activist; Anzhelika Rudnytska - Ukrainian singer, civil society activist; Mari Ceballos - frontwoman, songwriter, folk group "ZGARDA".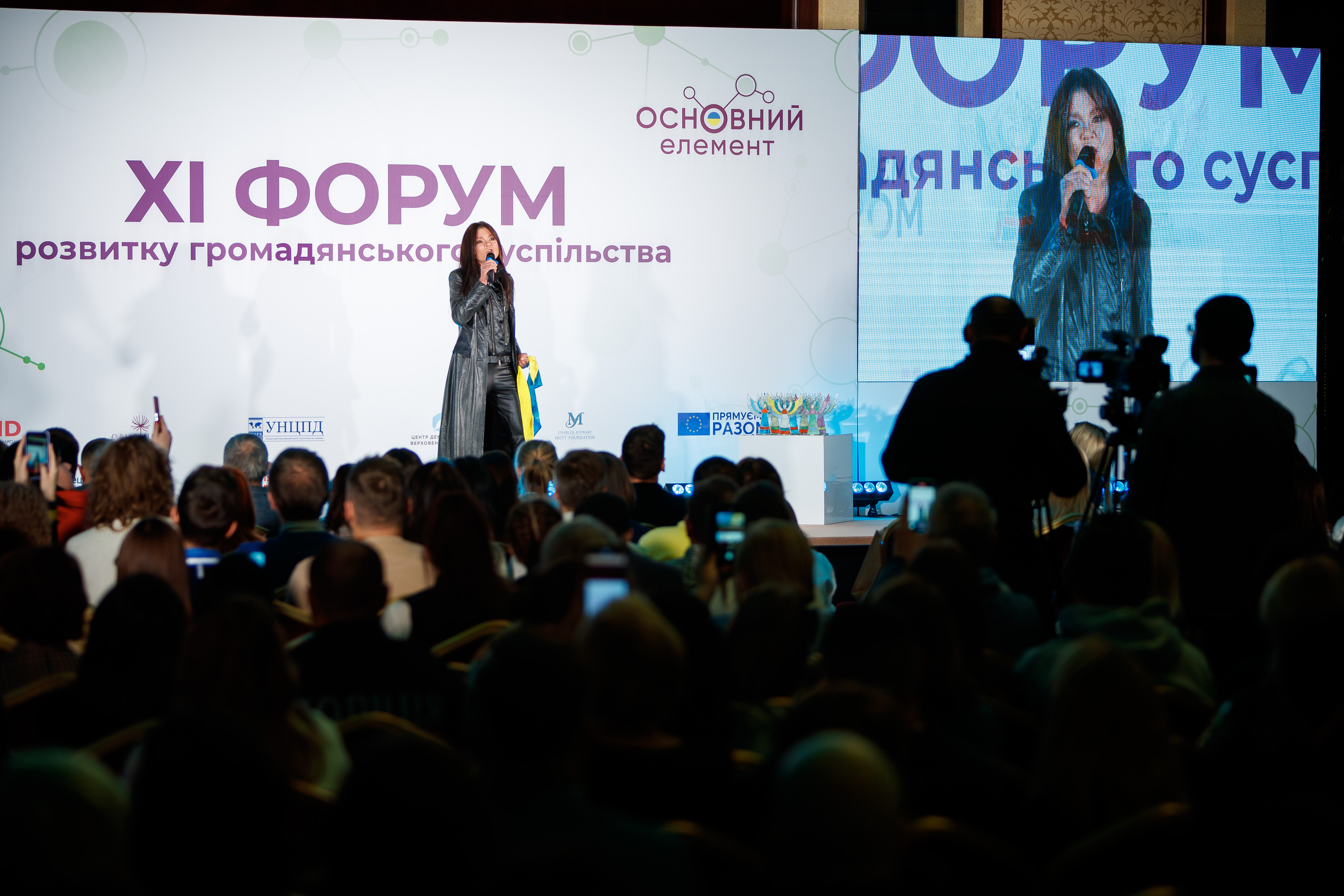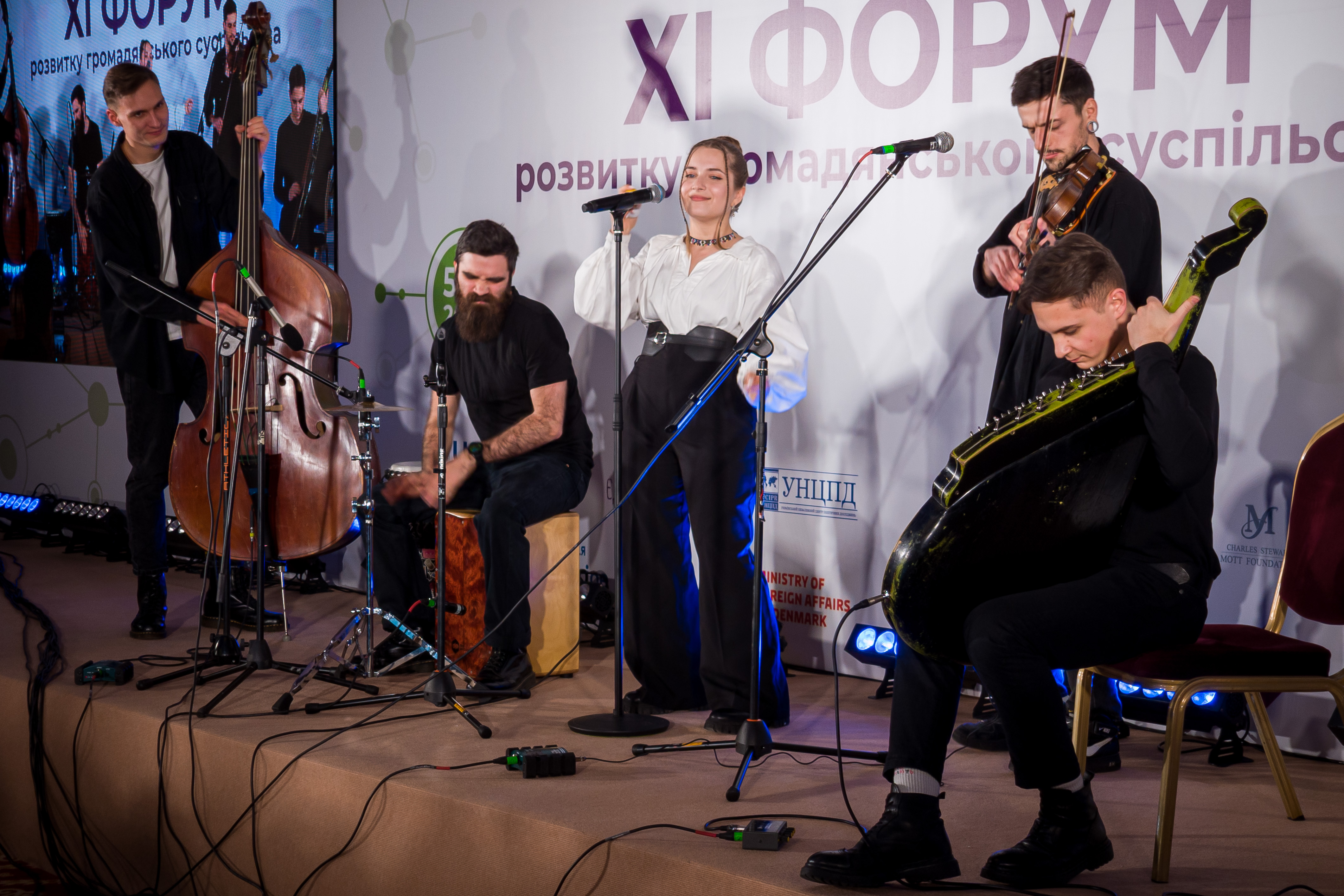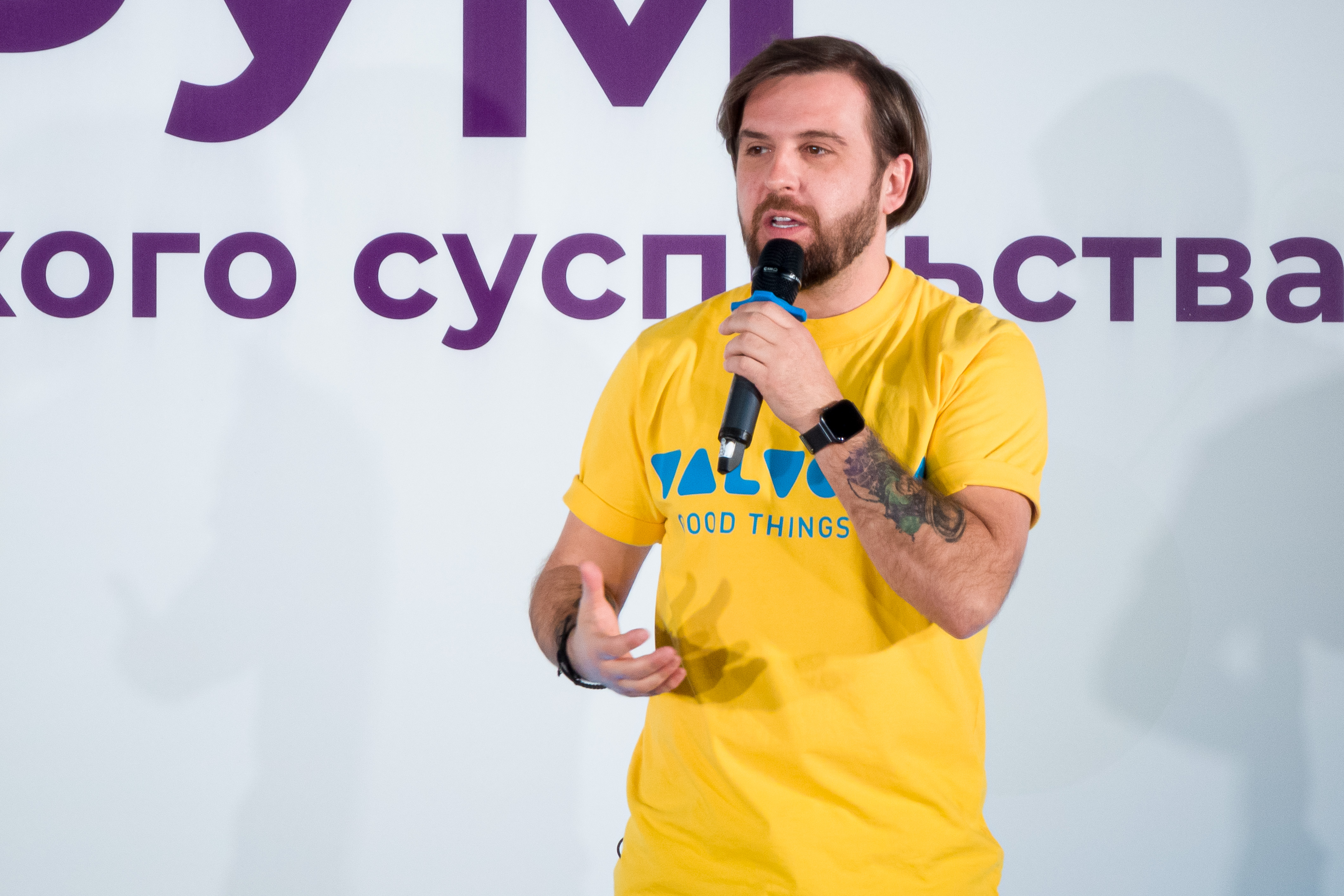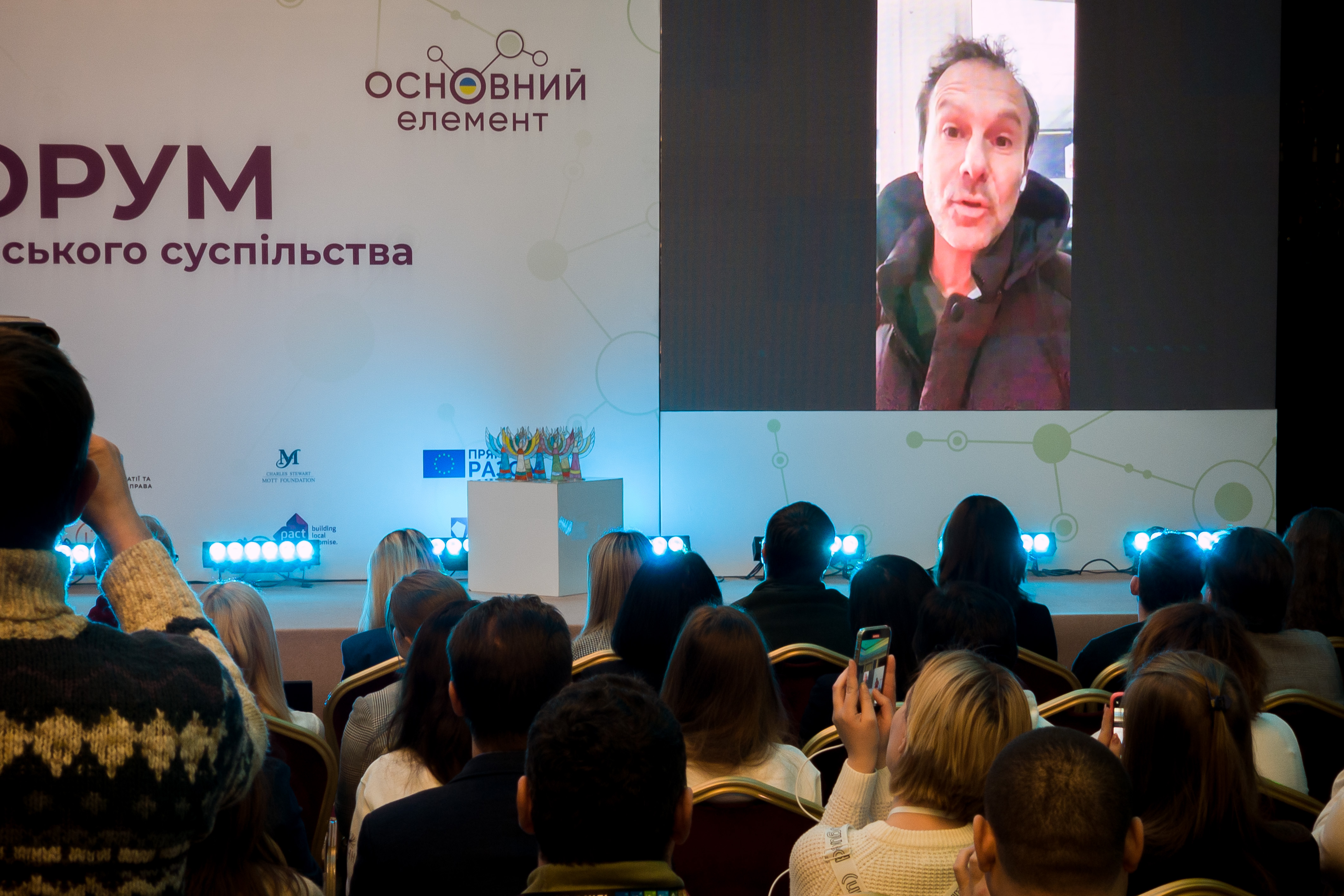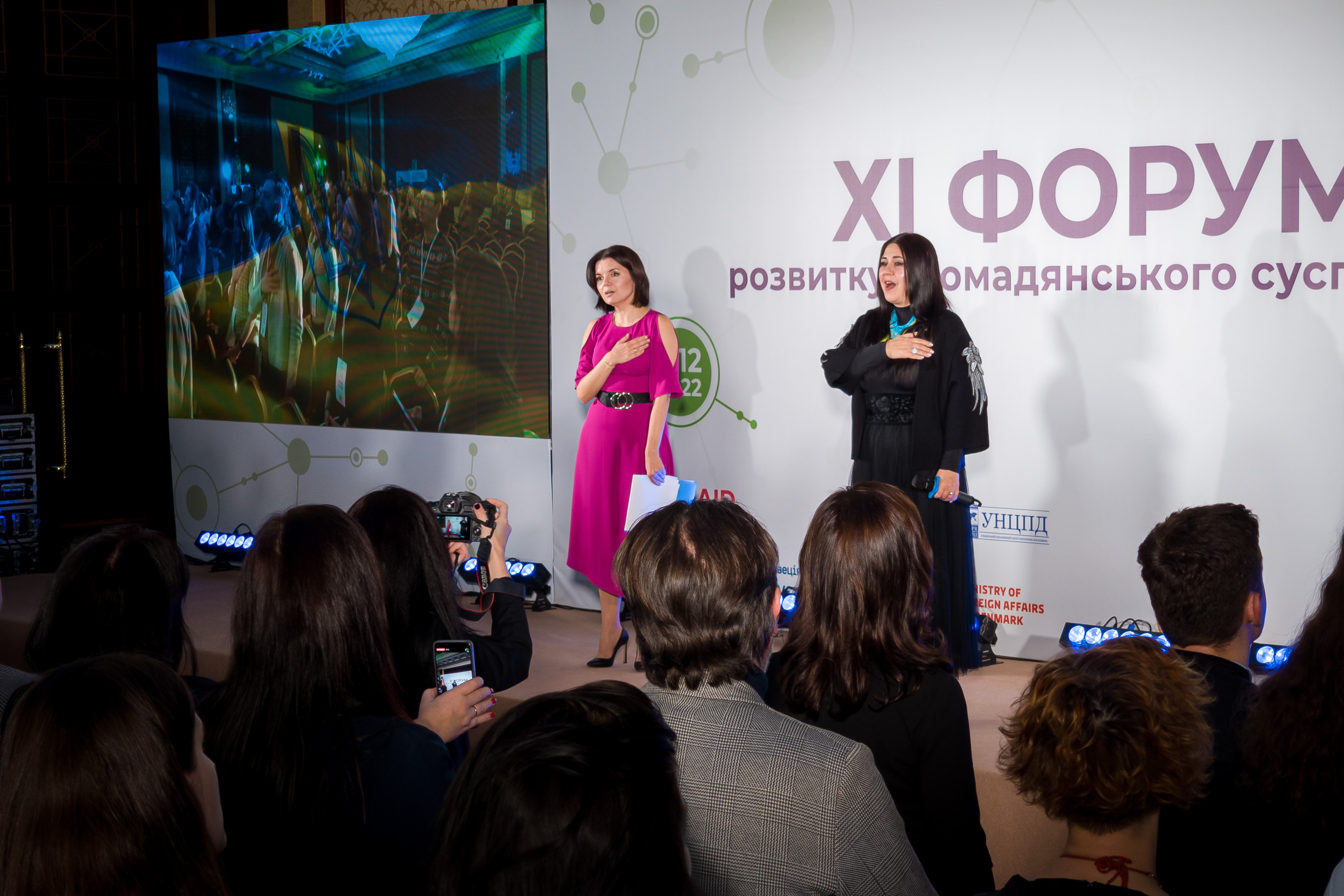 This year the award does not only refer to the stories of "ordinary people who are achieving extraordinary things", but it's also a testimony to the fact that the volunteer movement is a part of new Ukrainian culture, and contemporary volunteers are ready to accept responsibility, to change themselves, the country and people surrounding them.
Recording of the live stream is available at:: https://forum.ednannia.ua/online-main.html (start at 8.38.30)
- «We consider civil society organizations to be the core element or one of them; they have saved, continue to save, and support many people in Ukraine. We also consider that Ukraine itself currently is the core element of protection of democracy in the world. The fate of the world order depends strongly on what will happen here, and where we will arrive, and when. That's why we believe that Ukraine is one of the core elements in protecting interests and providing further democratic development in the world", – noted Volodymyr Sheyhus, executive director of ISAR Ednannia.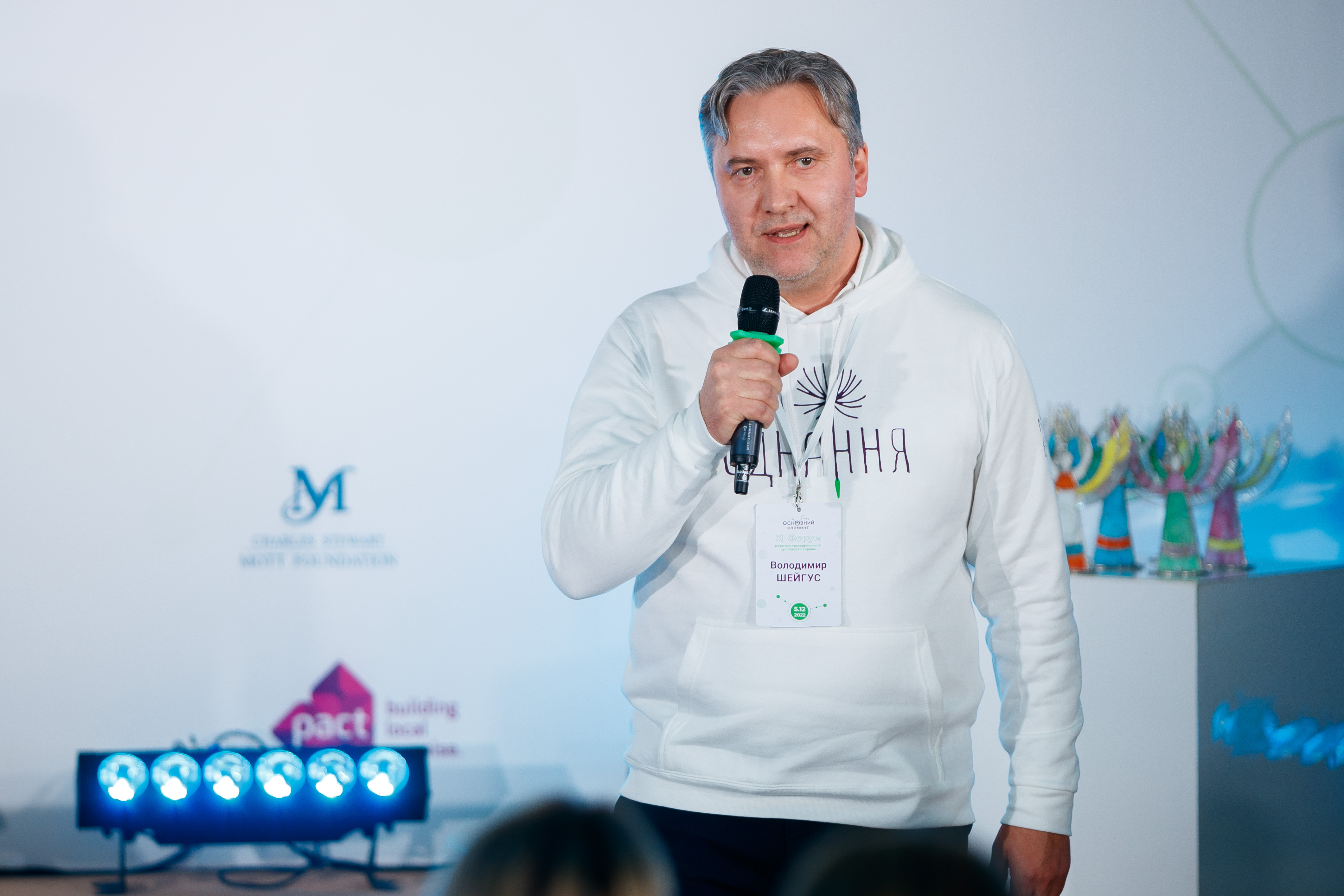 Photo report from the Forum can be downloaded at: https://flic.kr/s/aHBqjAizGS
The 11th Annual Civil Society Development Forum is organized by the Initiative Center to Support Social Action "Ednannia" (Ednannia) and has been made possible due to the generous support of the American people through the United States Agency for International Development (USAID) as a part of its Ukraine Civil Society Sectoral Support Activity, implemented by Ednannia in the consortium with the Ukrainian Center for Independent Political Research (UCIPR) and the Center for Democracy and Rule of Law (CEDEM); with financial support of the Ch.S. Mott Foundation; with financial support of the European Union within the project "Emergency Support of European Union for Civil Society"; with the financial support of UNDP projects "Digital, inclusive, accessible: support of digitalization of state services in Ukraine" and "Civil society for development of democracy and human rights in Ukraine", that are financed by the Governments of Sweden and Denmark respectively; with financial support of IZ - Vielfalt, Dialog, Bildung (Austria); with financial support of the USAID/ENGAGE activity, funded by the United States Agency for International Development (USAID) and implemented by Pact in Ukraine.